Team ResourceX is excited to attend and engage at Hometown Summit starting tomorrow April 13th! Located in Charlottesville, Virginia for 2017, the Hometown Summit is a "bootcamp for leading change through entrepreneurial thought and action!"
More about the Hometown Summit
Small Cities are Innovation Labs for the New Economy
Discover how small and mid-sized cities are test beds for path-breaking solutions to 21st century challenges. The Hometown Summit is a one-of-a-kind convening and celebration of leaders in small and mid-sized cities who have spearheaded some of the nation's most creative and successful initiatives for community problem-solving. Featuring dozens of keynotes, workshops, and peer-led panels, it's your chance to learn from and connect with outstanding change-makers in this dynamic segment of American communities.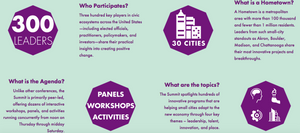 Follow us on twitter @_ResourceX as we provide updates on all the action at the 2017 Hometown Summit! And feel free to DM us if you are attending to connect!