ResourceX in the Motor City for #ELGL17!
"Detroit is big enough to matter in the world and small enough for you to matter in it." - Jeanette Pierce
ELGL will be hosting their 2017 annual conference in Detroit May 11-12. And ResourceX is excited to sponsor and engage this incredible event!
As a Michigan native and one who lives, works and thrives in Detroit, I'm personally thrilled that ELGL decided to locate this event in the Motor City. There are few US cities with the storied history of Detroit. And fewer US cities that have bent to the point of nearly being broken, yet has bounced back. While my Detroit certainly has obstacles to overcome, I'll be proud to show off my home to #ELGL17 attendees who will be arriving from coast-to-coast.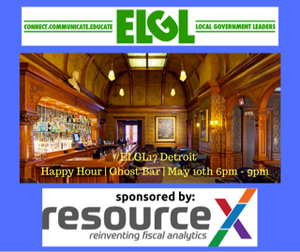 In an effort to show off a historic piece of Detroit while welcoming #ELGL17 attendees, ResourceX has teamed up with ELGL to sponsor and host a "Welcome to Detroit" happy hour starting at 6 pm on May 10th (the night before the conference begins). This event is only for #ELGL attendees. If this is you then register here!
This event will be held at the Ghost Bar in the historic Whitney Mansion. According to Historic Detroit, "The David Whitney Jr. House was built by successful lumber baron David Whitney Jr., one of Michigan's wealthiest citizens and the wealthiest man in Detroit. He was worth more than $15 million at the time of his death in 1900 — about $388 million today, when adjusted for inflation."
"The Whitney mansion is 22,000 square feet and has 52 rooms (including 10 bathrooms), 218 windows, 20 fireplaces and numerous stained-glass windows crafted by Tiffany's of New York It was the first residential home in Detroit to have an elevator for personal use, a hydraulic number. The Whitneys spent an additional $250,000 ($6.2 million today) on decorating and furnishing the home and another $300,000 ($7.5 million today) on artwork from around the world."
So if you have already registered for #ELGL17, please register for this free event here! Space is very limited so be sure to register today.
We look forward to meeting this year's crew of creative and innovative #ELGL17 attendees. See you in the Motor City Detroit!
This event is hosted by the inventors of Online Priority Based Budgeting ResourceX. Our clients understand that priority based budgeting is a leading best practice for local government. ResourceX provides the software solution to implement a priority based budget and the powerful analytic tools necessary to achieve results for your community.
ResourceX partners with clients to deliver unique solutions. With experience in custom reporting, governmental transparency and incorporating capital projects into a priority based budget, we are ready to help your organization translate your fiscal data into actionable decision-making.