Englewood, Colorado | Englewood Civic Center | October 2 - 6, 2017
ResourceX invites you to the 2017 PBB Boot Camp & Summit! With over 170 cities, counties, school districts and special districts across North America practicing PBB and applying PBB data, the time is now for your organization to achieve transformational results for your community!
This year we are providing two PBB engagement options!
PBB Boot Camp: October 2 - 3, 2017
Use your organization's data to develop a prioritized budget! The PBB "Boot Camp" is a first of it kind workshop for new organizations to launch PBB. Attendees will use their own organization's data to develop program inventories, allocate costs, and prioritize programs. At the end of this two day workshop you will have developed your own Online PBB model and the knowledge to apply PBB data in your organization!
PBB Summit: October 4 - 6, 2017
Learn how to apply PBB data from ResourceX, all-star local government PBB implementers and the most innovative PBB Data Officers across North America!
At the 2017 PBB Boot Camp + Summit you will obtain the tools, resources and training for every community to apply PBB data for actionable decision-making!
The 2017 PBB Boot Camp & Summit is brought to you in partnership with the National Research Center (NRC) and ELGL (Connect, Communicate, Educate). We are thrilled to have both ELGL + NRC engage with us and lead panel discussions again this year. Please support both of these unique and innovative organizations who contribute so much to local government. Thank you partners!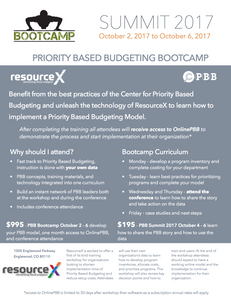 The Power of RX Online PBB Platform to Accelerate Actionable Decision-Making
Online PBB provides a much more powerful, efficient, and data-driven approach to achieving exponential community results than ever before! At this PBB Summit you will learn how to apply Online PBB to achieve:
Online PBB and InstaPBB – Rapid and efficient deployment of the Online PBB budgeting platform completely unique to your organization.
Priority Based Business Planning and Budgeting - Your PBB budget process provides a tool for allocating resources within a broader and all encompassing Strategic Plan and Business Planning framework.
Staff empowerment – ultimately, the "lens" that PBB establishes to guide resource re-allocation decisions is only a tool; the lens serves one purpose, which is to serve the "trained eyes" of policy makers, executive administration, and ultimately residents.
DashPBB - The user interface for the department level decision maker, this has been designed for department heads within an organization to analyze, track, and update their budget model.
Capital Project Prioritization – many have talked about, many have desired to do it, and now innovative NW communities will be among the very first to actually implement and integrate Capital Projects using PBB methodology.
PresentPBB - Engage your elected officials like never before, this tool simplifies the message of priority based budgeting through powerful visuals and dynamic charts. Open PBB Data – Translate your Online PBB data platform into a powerful community facing transparency tool. Use OpenPBBData platform to communicate to your residents and stakeholders to roll out an "open data" initiative, leveraging your PBB data.
The PBB Summit Program to be released soon. Attendance is limited!