"The PBB Master Plan has shifted from helping communities implement PBB to using PBB data to make change." - Jamie Rouch, Branson Finance Director
As Jamie Rouch from the City of Branson, Missouri put it, the evolution of the PBB Master Plan has necessarily shifted from helping communities "implement PBB, to using PBB data to make change!" The City of Branson was the first city in Missouri to implement Priority Based Budgeting. Under the leadership of Finance Director Jamie Rouch and City Manager Bill Malinen, the City pursued PBB as a direct means to connect the way they budgeted to the long-term vision and Strategic Plan that Council had developed for the future of the community. Branson was among the first communities to truly recognize the power of PBB to unify and fortify budgeting with strategic planning. They realized that a Strategic Plan is incomplete, without the backing and support of resources (money and people) to achieve it - PBB was their tool to execute and implement the Strategic Plan, a vital road map for it's ultimate fulfillment. And to cap it off, under Jamie's guidance and vision, the final step in this process was communicating their plan, and their story, to their citizens, in the most magnificent way.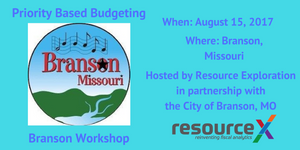 This year Branson created a Budget Magazine to compliment their budget book. The intent was to unlock the budget information from the budget for citizens to more clearly understand the Branson budget through info-graphics and short, concise sections. The Budget Magazine also includes a Priority Based Budgeting section so that citizens can better understand how Branson uses PBB for strategic planning and budgeting. See a snapshot of the PBB section of the Branson Budget Magazine below or to see the full Budget Magazine click here.
Branson PBB Workshop
Resource Exploration, the Center for Priority Based Budgeting (CPBB) and the City of Branson are proud to present a dynamic priority based budgeting (PBB) summit in the City of Branson, Missouri. Join us for this free PBB Summit on August 15, 2017, hosted by the City of Branson at the Branson Convention Center.
For more information, workshop agenda and to register click here!