August 2, 2017 | City of Brisbane City Hall | Brisbane, California
August 3, 2017 | City of Benicia City Hall | Benicia, California
Resource Exploration, the Center for Priority Based Budgeting (CPBB), the Institute for Local Government and the Cities of Brisbane and Benicia are proud to present dynamic priority based budgeting (PBB) summit(s) in Northern California!
Join us for free PBB Summit's on August 2 & 3, 2017 to obtain the tools, resources and training for every community to apply PBB data for actionable decision-making!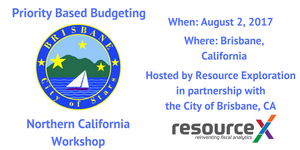 Register today for the Brisbane, California PBB Workshop!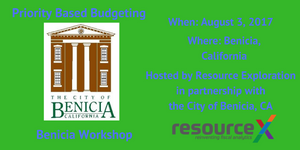 Register today for the Benicia, California PBB Workshop!
The Power of RX Online PBB Platform to Accelerate Actionable Decision-Making
Online PBB provides a much more powerful, efficient, and data-driven approach to achieving exponential community results than ever before! At these PBB Summits you will learn how to apply Online PBB to achieve:
Online PBB and InstaPBB – Rapid and efficient deployment of the Online PBB budgeting platform completely unique to your organization.
Priority Based Business Planning and Budgeting - Your PBB budget process provides a tool for allocating resources within a broader and all encompassing Strategic Plan and Business Planning framework.
Staff Empowerment – ultimately, the "lens" that PBB establishes to guide resource re-allocation decisions is only a tool; the lens serves one purpose, which is to serve the "trained eyes" of policy makers, executive administration, and ultimately residents.
DashPBB - The user interface for the department level decision maker, this has been designed for department heads within an organization to analyze, track, and update their budget model.
Capital Project Prioritization – many have talked about, many have desired to do it, and now innovative NW communities will be among the very first to actually implement and integrate Capital Projects using PBB methodology.
PresentPBB - Engage your elected officials like never before, this tool simplifies the message of priority based budgeting through powerful visuals and dynamic charts. Open PBB Data – Translate your Online PBB data platform into a powerful community facing transparency tool. Use OpenPBBData platform to communicate to your residents and stakeholders to roll out an "open data" initiative, leveraging your PBB data.
The Brisbane and Benicia PBB Workshops are brought to you in partnership with the Institute for Local Government. We are thrilled to have ILG engage with us for these workshops. Please support this unique and innovative organization who contributes so much to local government!
The Institute for Local Government (ILG) is the research and education affiliate of the California Special Districts Association, the League of California Cities and the California State Association of Counties. They are a non-profit dedicated to promoting good government at the local level and support California's local governments as they work to establish and implement good governance policies and practices to better serve their communities. ILG conducts research and provide education through technical assistance, trainings, webinars and online and print resources in an effort to: foster ethical, transparent local governments; create active and engaged communities; and ensure elected officials have the tools they need to make informed, ethical decisions. Find out more at www.ca-ilg.org.