County governments in Wisconsin are financially unsustainable and must reinvent themselves to survive, even if that means erasing borders and merging with the county next door, Washington County leaders say in a letter to four of their neighbors.
The County Board's Executive Committee and County Administrator Joshua Schoemann have invited their counterparts in Ozaukee, Fond du Lac, Dodge and Waukesha counties to discuss everything from sharing services, consolidating departments and even redrawing maps to unite as one (Washington County Invites Neighbors to Consolidate Services or Merge).
Any talks would build on existing partnerships. Washington and Ozaukee counties merged their health departments last year and already saved taxpayers $300,000. Waukesha County shares its medical examiner with Washington County. See partnership video here.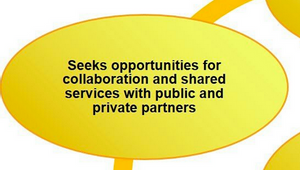 Massive applause for the bold leadership of Washington County WI! We are very excited to share with you absolutely groundbreaking work now underway in Washington County, Wisconsin, led by County Administrator Joshua Schoemann.
A recipe to free up resources for your future:
1.) identify and leverage common service areas among private, public and non-profit organizations within your community,
2.) create shared service approaches, and/or service consolidations/mergers together with these organizations, thereby
3.) freeing up your current resources on a dramatic scale, to reallocate elsewhere to start new services or enhance current high priority services.
Today's Priority Based Budgeting (PBB) communities are able to mine their list of Policy Question #3 programs (Public/Public partnerships - ideal for shared services or consolidation), and approach the community in an open process to seek more partnerships. Public-public service sharing opportunities exist for these programs that are highly relevant, but offered by another entity
Just like the City of Englewood, CO and the City of Toledo, OH are doing with the private sector (Policy Q #4 list of programs), Washington County's work is a glimpse of the exciting future we can create through maximizing partnerships and massively reallocating resources.
To find our how your community can identify programs ripe for partnerships sign up for the 2017 PBB Boot Camp & Summit this October in Englewood, Colorado!