ResourceX + the Center for Priority Based Budgeting are thrilled to present, exhibit and engage at the 2017 ICMA Conference in San Antonio, TX next week! Be sure to catch our presentation on Tuesday, October 24th at 3:30 pm, as we expand on Priority Based Budgeting with a focus on Developing Public Trust Through the (Priority Based) Budget!
Developing Public Trust Through the (Priority Based) Budget will focus on critical components of citizen engagement in the budget process (before, during and after).
Open Data, Transparency & Financial Accountability
The concepts of open government and transparency have been in existence in various forms for many years. What is different today is that the technology exists to provide citizens with truly open access to government information.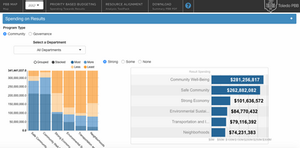 The City of Toledo is the first city ever to launch the Open PBB Data Citizen Portal. Toledo is committed to sharing city data with the public to increase transparency, accountability and customer service, and to empower companies, individuals and non-profit organizations with the ability to harness a vast array of useful information to improve life in the city. Toledo Open PBB Data is specifically designed to transparently share all the city's priority based budgeting data with citizens.
In this section we'll discuss why Open PBB Data was created and how Toledo utilized PBB data to effectively and transparently communicate with citizens. More background information here.
Creating Partnerships with the Public
Governments continue to find new ways to leverage private sector money, expertise, innovation and flexibility. This is especially true for states and localities, which in the past 20 years have rapidly expanded the scope, scale and stakes of that leverage. This practice of deeper private sector involvement in public services is broadly known as public-private partnerships, or P3s.
In our work in Priority Based Budgeting, one of the greatest outcomes of the work is the ability to shed light on where to find opportunities for shared services. What if a program was of the highest priority for your citizens, and you found out you were one of several providers of this service in your community? Perhaps a partnership would be an incredible opportunity to produce efficiency in the provision of that program. On the other hand, what if you found a lower priority program for which there were other service providers? Maybe the best approach there would be to consolidate services or even allow the other service provider to take on the program entirely.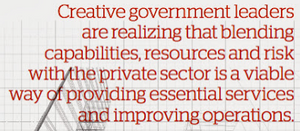 Central to PBB is the idea that all local government organizations can determine the role they're suited to serve best within a community, and amongst all potential service providers within a region - identifying the overlap, the potential for partnerships, consolidated services, and spinning off of services between city, county, school district, non-profit and private sector organizations. The end goal is nothing short of the most efficient use of a community's resources as a whole, to achieve the results of a region – it's "bang for the buck" for the provision of public services.
Public Private Partnerships (or P3's) are becoming an incredibly exciting opportunity area for the future of local government and our communities. Why? Because through partnerships, local governments are able to tap into additional resources, bringing other service providers into the same mission we strive to achieve, almost as if adding new staff for no new money (and often times, while reducing costs). It's as if government has increased it's size (through the collaborations created in such partnerships), but it will not have increased in size. Instead it will have leveraged these partners to increase the overall impact! It's a truly remarkable solution. The good news is that government "Doesn't Have To" be in the same businesses it has been in throughout history, providing these same services – there are many many other service providers who are working on the same societal objectives of safer communities, healthier people, a more thriving economy, etc. Government must realize who these players are, and leverage the force of their efforts – thereby reducing redundancies within community, maximizing key partnerships with these services providers, and ultimately optimizing the resources that a community has from all of it's service providers.
Citizen Engagement and Creating Influence in the Budget Process
Local governments are in the midst of a sea change when it comes to public participation and citizen engagement. The Center for Priority Based Budgeting have been early pioneers of active citizen engagement in obtaining a more significant and meaningful citizen influence on the budget. In 2012, CPBB was part of the largest citizen outreach process ever implemented to facilitate Priority Based Budgeting, as the City of Cincinnati, Ohio conducted a massive initiative including both traditional (town-hall meetings, statistically valid citizen surveying) and cutting edge approaches including online citizen engagement and elections on results.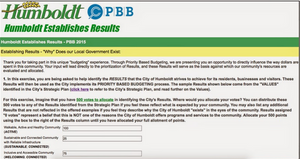 From difficult budget decisions to tough land use problems, municipal and civic institutions have recognized that legitimately engaging their citizens - from discovering their informed opinions, to inviting their participation in actual solutions - should be a pragmatic priority.
Speakers
Chris Fabian - Chris Fabian has over 10 years of consulting experience with local governments. As co-founder of ResourceX and Center for Priority Based Budgeting, he guides the mission of ResourceX to grow the community of priority based budgeting by ensuring the value is seen by all and by helping communities to achieve results.
Eric Keck - City Manager, City of Englewood, Colorado. While serving as City Manager, Eric has implemented priority based budgeting in Englewood and applied PBB to enhance public safety through regional collaboration with the City and County of Denver by contracting fire and EMS services, gaining improved service and savings of over $3.5 Million in the first year alone! Eric has also served on the Credentialing Advisory Board with ICMA and the City Administrator with the City of Post Falls, Idaho. #FunFact: Eric Keck is the first and only Municipal Leader to launch PBB in two different municipalities (both Post Falls, ID and Englewood, CO).
We are so excited to engage with so many creative local government professionals at ICMA 2017 in San Antonio this year. Please be sure to visit us at Exhibitor Booth 1209 (shared booth with CPBB and SAFEbuilt) and attend our presentation Developing Public Trust Through the Budget on Tuesday at 3:30 pm. Or email us to set up a private meeting during the conference.
See you next week!