"Data-driven decisions will be filtered through the Priority Based Budgeting process, bringing strategic alignment into everyday activities." - Kalamazoo 2018 Proposed Budget
In September 2017, we wrote about the City of Kalamazoo's development of their PBB driven Imagine Kalamazoo 2025 Strategic Vision and Master Plan.
We wrote, what is the value of Imagine Kalamazoo 2025? According to the city, "The responsibilities of the city are wide-reaching: utilities, transportation, land use, housing, policy, regulation, and more. The "dots" don't always connect, as each group works to meet its own obligations with its own resources and goals. A strategic vision - common priorities, resources, goals and stories - provides the framework to connect those dots, to align and evaluate our policies and actions, and to make the most of our resources."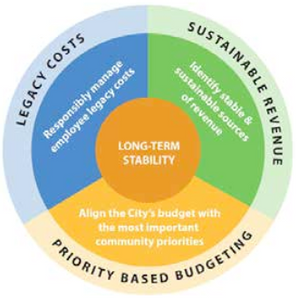 Building upon the success of three years of priority based budgeting and the launch of the 2025 Strategic Vision and Master Plan, Kalamazoo has now published their 2018 Proposed Budget.
The city states, "This budget reflects our commitment to become a High Performance Organization and encompasses the community's values and goals included in the Imagine Kalamazoo 2025 (IK2025) Strategic Vision. The results of our efforts are already paying dividends; for the first time in memory, two consecutive Budgets and Five-Year Fiscal Plans reflect the development of staffing capacity, equipment and capital investment to realize high-impact services and projects without draining critical reserves or budget cutting. Moreover, this Proposed Budget reflects support from the Foundation for Excellence (FFE) to stabilize our budget, reduce property taxes, and implement aspirational projects and programming. The City is moving swiftly through a period of intense and intentional transition, from surviving to thriving!
City Manager James Ritsema goes on to say, "In the Adopted FY 2017 Budget Transmittal Letter, I promised that we would adopt a "vision-driven trajectory":
"Our budget is the natural result of continued negotiation between the expected role that the City plays in promoting and preserving the quality of life that our citizens desire and deserve, in the context of the realities presented by our economic and cultural environment. In order that our activities remain fresh and relevant, and our budgeting process propels continuous improvement in our outcomes, we need to constantly reground ourselves in the vision and values of our organizational leadership and the community at large."
"In 2017, the City completed the Imagine Kalamazoo 2025 Strategic Vision (IK2025), the City's guide to shape future planning and organizational direction. This Vision is the culmination of 18 months of studying, listening, and careful planning. From this process, a new Master Plan has been adopted and will actualize the IK2025 Vision through its extensive and intensive action plan"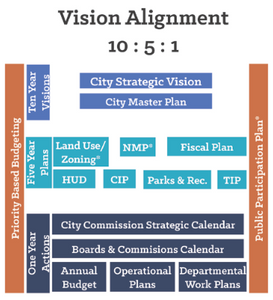 The City of Kalamazoo was the first City, and first local government to launch Priority Based Budgeting in the State of Michigan. Following an education session on Priority Based Budgeting hosted by the Michigan Municipal League (MML), City Manager Jim Ritsema launched PBB in the City to "evolve the way that we see, think and 'touch' the City's budget."
According to Ritsema, from their 2016-2017 budget transmittal letter, "instead of abstract line items, compartmentalized, bureau-centric thinking, and incremental budget cuts, PBB provides a tool that refocuses decision-making around well-defined programs, which are prioritized to maximize scarce resources towards achieving the Community's desired and required results, including a safe community, effective transportation systems, environmental stewardship, and so on."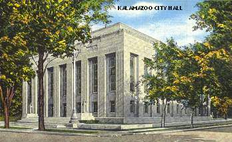 Since 2015 when they first launched PBB, what differentiates Kalamazoo even further is the way that they've masterfully integrated their community visioning work and strategic planning framework, to connect the achievement of their future societal quality, directly with the way they allocate resources - through Priority Based Budgeting.
As your organization begins to see Priority Based Budgeting for what it is, a tool to free up resources and dramatically realign them towards the Results that will create a better future for your community, you'll notice that attention ultimately goes back to the policy-makers. And the question in front of them centers entirely on "what Results" matter most for the success of your society? What Result do we need to align our resources with, in order to bring about the future that we dream of?
If PBB is a tool to churn up substantial amounts of resources to redirect towards the services you wish you could start ("if only we had the money"), or enhance the services that are so desperately needed; then towards what end goals are we going to point these abundant resources you've discovered? The City of Kalamazoo's "Imagine Kalamazoo 2025 Strategic Vision and Master Plan" establishes this very direction, and is fueled by the resources directed towards this vision, through PBB.
The following sections are included in the Kalamazoo 2018 proposed budget.
Priority Based Budgeting
As part of the City's efforts to create long-term stability and sustainability, a new approach to budgeting was introduced in 2015. Priority Based Budgeting (PBB) is a process that evaluates current city programs by their influence in achieving the outcomes identified by the community during Imagine Kalamazoo, and uses this as the basis for allocating resources more effectively.
The City reviewed the PBB program inventory for the 2018 budget which resulted in a total of 478 programs consisting of 456 community and governance programs, and 22 administrative programs.
The projected direct program cost for the FY 2018 Proposed budget is $132.3 million with 637 positions. The programs were evaluated and scored on a scale of 1 to 4 based on the results maps included on the following pages. Based on the overall score, the programs are divided
into quartiles based on community priority.
During 2018 the departments will be performing a quarterly review of programs and tracking measurements to assist in reallocating resources to align with city priorities.

Our commitment to Priority Based Budgeting will maximize partnerships and improve customer service. We will fuel this transformation with objective data, meaningful and purpose-driven measurement, program evaluation, continuous improvement and positive adaptation.
Additionally, as part of a list of priorities to create long-term stability in the city, Kalamazoo emphasized their work with PBB in their 2018 proposed budget:
Third Year of PBB:
With the Proposed FY 2018 – 19 Budget, the Administration has completed the third year of PBB, which provides a tool that refocuses decision-making around well-defined programs, maximizing
scarce resources towards achieving the community's desired and required Goals. PBB also
involves continuous measurement and the use of data to drive improvement in efficiencies by way of new technologies, better organization, and leveraging partnerships or handing off functions to other overlapping entities, in order to lower costs and improve outcomes.
Priority Based Budgeting accomplishments in 2017 include:
-The creation of 10 new Goal Maps based on the new IK2025 Strategic Vision as adopted by the City Commission:
Youth Development

Safe Community

Shared Prosperity

Complete Neighborhoods

Strength Through Diversity

Connected City

Environmental Responsibility

Inviting Public Places

Economic Vitality

Good Governance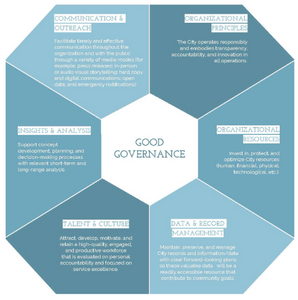 -All 500+ City PBB programs have been scored, reviewed and costed using the new Goal Maps.
-Departments have already established nearly 50 Key Performance Indicators, otherwise known as "SMART" measurements:
Specific

Measurable

Attainable

Realistic

Time bound
By this time next year, the City will have produced a High Performance Organizational Scorecard that will include an estimated 200 SMART Key Performance Indicators that link to the Strategic Vision, PBB Goals and sub-Goals, and which enable organizational accountability to the City Commission, the Foundation for Excellence, our partners and stakeholders, and the community at large.
Conclusion
During my Administration, we have moved beyond transitional management tactics and have
fully engaged the organization and the community with a new vision, new priorities, new
resources, and refreshed optimism. This vision will be infused with expertise, hard work, and
enthusiasm, and are reflected in our new Master Plan, enabling the vision to be realized by
action.
The FFE Board will be empaneled in 2018 with the immediate task of vetting projects for FFE
aspirational funding. The organization will initiate a new regime of measurement and
benchmarking, which are essential for a high performing organization. Data-driven decisions
will be filtered through the Priority Based Budgeting process, bringing strategic alignment into
everyday activities.
I would like to thank the Budget team of Patsy Moore, Jeff Chamberlain, Jerome Kisscorni, Laura Lam, Gina Viviano, Stephanie McGowan, Steve Brown, Thomas C. Skrobola, the entire
Cabinet, and key budget personnel across the City for their dedication to this process.
In addition, I would like to thank the 52nd City Commission for your vision, leadership, direction
and support. Pursuant to Section 43(f) of the City of Kalamazoo Charter, the following summary
and Proposed Fiscal Year 2018 - 19 Budget is presented for your consideration.
James K. Ritsema,
ICMA-CM, City Manager
Congratulations to the City of Kalamazoo for their innovative application of PBB, Strategic Planning, establishment of 200 SMART Key Performance Indicators that link to the Strategic Vision, PBB Goals and sub-Goals, and unlocking the budget for the benefit of their citizens!
Additional Resources + Related Articles:
Creating a Vivid and Clear Vision for the Future of Kalamazoo
City of Kalamazoo, MI Evolves the Way They "See, Think & Touch" the City's Budget!
Priority Based Budgeting in Kalamazoo