ResourceX and the Priority Based Budgeting Team (Team PBB) will be in Baltimore for ICMA 2018 and we couldn't be more excited! Priority based budgeting has been an ICMA leading practice since 2010! ICMA states, "ICMA's Annual Conference will offer you new opportunities to help fulfill your commitment to career-long learning. You will hear about the innovative ideas and practical strategies you need to deal with the challenges facing local governments today. It's an educational and networking opportunity that you can't afford to miss!"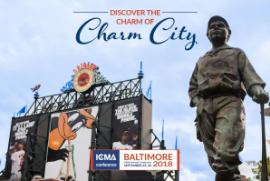 Whether you're new to Priority Based Budgeting, or a current practitioner of PBB, you have come to the realization and accepted the fact that budgeting is a powerful lever for change. The budget is a mechanism to translate our ambitions, our visions for the future, and our policies into the actions of service delivery, fueled by resources (people, time and money).
Priority based budgeting is a unique and innovative approach to budget planning which enables organizations to effectively match available resources with priorities. The underlying philosophy is about how governments, corporations and organizations allocate fiscal, physical and human resources to meet their stated objectives.
ResourceX provides the software solution and powerful analytic tools to implement a priority based budget using data and evidence to transparently and exponentially improve results for citizens and the community.
We are psyched to engage with our peers, friends and partners at this upcoming event to spread the word about priority based budgeting and how to use data and evidence to achieve results!
We will be engaging and exhibiting in a co-hosted booth with our good friends SAFEbuilt. Come connect with us at booth 271 or contact Chris Fabian at cfabian@resourcex.net or call/text 303.520.1356. We hope to connect with you in Baltimore!
Find out more about ResourceX software + services through case studies below: