"We need to shift our decision-making model from a largely complaint-driven system to a
data driven model. One of the innovative and data-driven methods the City of Roswell has adopted is the Priority-Based Budgeting philosophy."
In late 2013, the City of Roswell, Georgia became the first organization in the state to implement priority based budgeting. Since then, Georgia has gained more PBB communities including the City of Chamblee, Cobb County and the City of East Point.
At the time, the City described the PBB philosophy as, "Priority-based budgeting is a way for local governments to spend within their means by continuously focusing on the results most relevant to their communities and the programs that influence those results to the highest possible degree. The process involves a systematic review of existing services, why they exist, what value they offer to citizens, how they benefit the community, what they cost, and what objectives and citizen demands they are achieving. Each service or program is assigned a score based on its contribution to desired results so that tax dollars can be allocated to those with the greatest impact."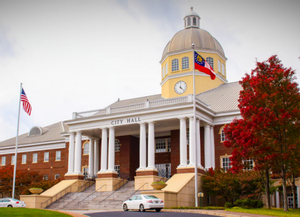 Now in 2018, Roswell is well beyond PBB "implementation" and is now actively and effectively "applying PBB data" using data and evidence to transparently and exponentially improve results for citizens and the community.
What Roswell does so well is to not only prioritize the budget, but to also ensure that program and resource alignment compliments the city's long-term strategic plan. This ensures complete alignment of short and long-term priorities, therefore delivering the highest level of results to citizens and the community.
The City of Branson, MO was among the first communities to truly recognize the power of PBB to unify and fortify budgeting with strategic planning. They realized that a Strategic Plan is incomplete, without the backing and support of resources (money and people) to achieve it - PBB was their tool to execute and implement the Strategic Plan, a vital road map for it's ultimate fulfillment. More on Branson's approach here.
The following Roswell FY2019 Budget (Message from the City Administrator" outlines why and how the city is applying PBB data. Read the full message below or access the full FY2019 budget here.
Priority-Based Budget
The traditional approach to governmental budgeting is incremental: The current year's budget becomes the basis for the next year's spending plan, and the majority of the organization's analytical and political attention focuses on how to modify this year's spending plan based on revenues anticipated in the next year. Priority-based budgeting is a common sense, data-driven, strategic alternative to incremental budgeting. The philosophy of priority-driven budgeting is that resources should be allocated according to how effectively a program or service achieves the goals and objectives that are of greatest value to the community. Priority-based budgeting is a best practice in municipal finance.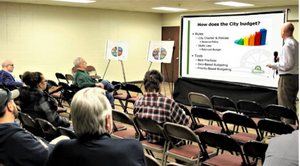 Strategic Priorities
In 2014, during the priority-based budgeting retreat, the City identified six strategic goals which sets the azimuth for the direction in which the City needs to go. All decisions, expenditures, and activities should tie into one or more of these goals:
A Safe and Secure Environment

Well-Designed Livable Community with Strong Neighborhoods

Sustainable Infrastructure and Community Resources

Access to Cultural, Historical, Recreational and Leisure Opportunities

Economic Development and Vitality

Good Governance
Critical Success Factors
Similar to the strategic priorities identified above, during their retreat in April 2018 the City Council was asked to consider where Roswell was today relative to the vision they have for the City and consider those things that must go well for the City to achieve that vision. The result was eight categories or Critical Success Factors:
Accessible and Unique Parks and Natural Resources

Exceptional Livability

Effective Governance

Proactive Infrastructure and Asset Inventory

Diverse Economic Environment

Charming and Thriving Downtown

Collaborative, Innovative, and Nimble City Government

Sustainable Financial Strength
These strategies along with the corresponding values, goals and objectives will continue to be developed and refined in conjunction with community input in the coming months through a citywide strategic plan; funding for which is included in the Budget.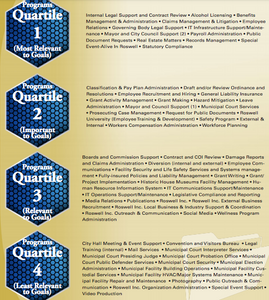 FY19 Budget Highlights
The FY 2019 Budget includes several new initiatives that support the Strategic Goals and Critical Success Factors discussed above. Some of the highlights include:
Funding for our first Citywide 5-10 Year Strategic Plan

Funding for our first Historic District Master Plan

A part-time Videographer position, additional video equipment, and online civic engagement software to enhance transparency by live-streaming City Council meetings and more easily enabling residents to provide feedback on important issues

Funding to continue the CORE Community Program, an education and engagement effort to bring awareness and understanding of how the City works for our residents

Additional Public Safety personnel, including a Fire Battalion Chief, Assistant Fire Marshal, two (2) Police Sergeants, and two (2) Police Lieutenants to enhance the operations of our Fire and Police Departments
Closing
The broad mission of the City is to provide a high-quality level of service to our community partners that reflects the community's vision, values and goals within reasonable fiscal limits. This requires us to think and act strategically in order to exploit our strengths as a community while preserving and protecting our limited resources. This is achieved primarily through strong fiscal policies and proven best-practices that must evolve as the needs of the community evolves.
Additionally, this could not have been accomplished without innovation by our dedicated department directors and their respective teams, and constant oversight by Ryan Luckett, Finance Director and his team of outstanding professionals.
I am pleased to announce the FY2019 Budget is consistent with the financial policies adopted by Mayor and Council and is funded and balanced in accordance with the relevant statutes within the O.C.G.A. and best practices in municipal administration.
Gary Palmer - City Administrator
The City of Roswell has now successfully implemented and applied PBB data into their annual budget and strategic plan. And we couldn't be more excited with their results! Congratulations City of Roswell!