"This state-wide and regional approach to understanding program commonality across a community (city, school district, hospitals, county, non-profit organizations and other private sector entities) is unleashing powerful and abundant partnership opportunities in an incredibly original way."
Priority Based Budgeting "Program Mapping" Regional Workshops
The Colorado State-wide Program Mapping Initiative continues to roll-out, with regional workshops throughout the State.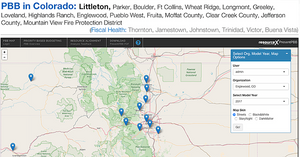 Program Mapping provided an opportunity to identify the services offered by your organization, so that other local service providers may seek partnerships together with you. Simultaneously, as other service providers in your region share their services with you, your organization may look for opportunities to leverage their offerings for partnerships you seek.
The initial launch at the Colorado City/County Management Association's conference saw over 50+ cities, counties, and special districts join the Initiative! And between March and April the next 6 on-site regional work-shops will roll out:
West Denver-metro (Arvada, Golden, Wheat Ridge and Denver area)

Northern Colorado (Ft Collins. Loveland area)

South Denver-metro (Littleton, Parker, Englewood, Highlands Ranch, Lone Tree)

Southern Colorado (Pueblo region)

West slope (Grand Junction area)

Boulder, Longmont, Louisville
Consider These Outcomes
In Moffat County, they have discovered that 59% of the County's entire budget is invested in programs that other local service providers also are providing. These could be services that the County decides to provide in partnership with the local provider, outsource to the local provider to free up resources, or in-source to the County in exchange for revenue.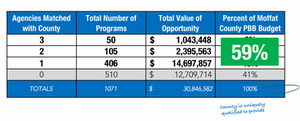 In addition, Moffat County has learned that the remaining 41% of their budget is invested in programs that the County is currently uniquely qualified to provide (a much lower percentage than was anticipated, which is a good finding given the scarcity of resources to ensure are prioritized).
In Clear Creek County, the incredible discovery made was that the County has upwards of 78% of it's budget invested in programs for which they could leverage local partners, outsource to, or in-source from to either free up resources for reallocation, or generate new revenue. Amazingly this leaves 22% of the County's budget allocated to programs for which there are no apparent partners to consider, at least given the scope of the partnership exploration thus far conducted.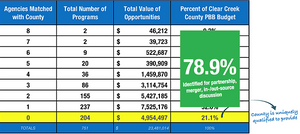 Through Program Mapping, Priority Based Budgeting communities are showing us the way to an entirely different future. By rethinking the services we offer, reassessing (re-understanding) and clarifying why we're relevant to the public, and substantially reallocating the abundance of resources available to government and to every institution serving the public good, these communities have created a profoundly compelling alternative solution to freeing up vast amounts of resources.
And by understanding their opportunities to leverage other service providers – in both the public and private sectors – they are freeing up resources in their community to successfully approach the future.
Scheduled Program Mapping Regional Workshops
Join us on March 29th at the City of Denver Municipal Offices in downtown Denver for Metro Denver West Program Mapping. Register here!
Join us on April 4th at the Pueblo City-County Library for SE Colorado (Pueblo County) Program Mapping! Register here!
These workshops are 100% FREE! There is no charge for your participation.
Please bring a laptop computer. Light refreshments and snacks will be provided.
REGISTER TODAY!