Repurposing through Program Budgeting: Using Program Data to Repurpose Budget Resources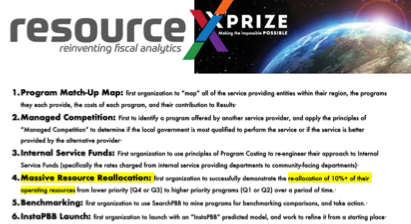 "In the local government innovation space, getting the best results for residents is paramount. One of the biggest obstacles cities face in doing so is often not a lack of innovative ideas, but rather the challenge of distinguishing ideas that are delivering results from the ones that are not meeting goals — and then investing funding and scaling work accordingly." - What Works Cities
Let's begin with a simple exercise...
Step 1: write down the grand total of your organization's budget. Operations, capital, debt service, all accounting funds – the whole enchilada.
Step 2: multiply that number by 10%.
Step 3: now imagine your organization received a check for this amount. Better yet, let's say this funding was an ongoing, annual commitment, not just a one-time installment... what would you do with such an new found abundance? How would you decide where to allocate this funding? Would it be a difference maker?
This is the power of repurposing - a strategy so profoundly important, it is enthusiastically championed by organizations from McKinsey & Company to What Works Cities, and of course ResourceX.
In 2015, we set forth a series of massive stretch-goals for our community of PBB implementers. Among them was a goal that one of our communities would be able to successfully demonstrate the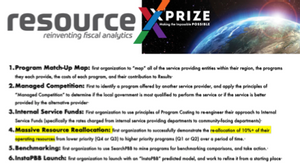 re-allocation of over 10% of their budget, using PBB.
In 2016, having had nobody respond to the challenge, we re-issued the stretch goals to our community. And similarly in 2017 and 2018, with no winners, we once again restated the challenge...
In 2019, we have our first 5 organizations over the mark – each having demonstrated successfully that they have repurposed over 10% of their entire budgets, freeing up the massive resources required to launch new and high-priority services, as well as enhancing current programs that need to grow.
First Five over the 10% Goal-line
At this year's Annual PBB Summit in Denver this August, we'll be recognizing and honoring the first five organizations to successfully demonstrate this absolutely incredible feat. They are:
Washington County, Wisconsin - repurposed 13% of their budget ($13.3M)

South Jordan City, Utah - repurposed 11% of their budget ($5.8M)

Shawnee, Kansas - repurposed 10% of their budget ($3.5M)

Branson, Missouri - repurposed 10% of their budget ($3.5M)

Scott County, Minnesota - repurposed 10% of their budget ($10M)
The goal is to transition the aspirational concept of 10% budget repurposing from a "massive stretch goal" to the new normal normal.
Additionally, several more ResourceX PBB cities and counties are just under 10% budget repurposing. These include:
Stratchona County, Alberta - repurposed 9% of their budget ($27.9)

Marathon County, Wisconsin - repurposed 9% of their budget ($10.8M)

City of Plano, Texas - repurposed 8% of their budget ($30M)
According to What Works Cities' thought-leader Clarence Wardell: repurposing of resources recognizes that "there is an opportunity cost to every investment we make, and these are dollars that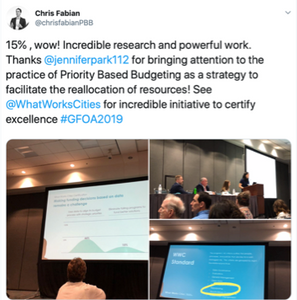 should be put toward programs that are helping us address our biggest challenges in a demonstrable way."
The practice of repurposing is quite simple: "using data to make decisions about when to shift funding away from programs that aren't working toward ones that are." (Read more from a Q&A with Clarence in "The Adaptive Budget: How Cities Are Repurposing Funds to Invest in Impact").
At the Government Finance Officer's Association Annual Conference in Los Angeles, Jennifer Park highlighted WWC's emphasis on repurposing of resources as one of eight foundational practices included in the What Works Cities Certification Criteria. And while most every local government agrees that repurposing is a key strategy to liberate resources and free them up for other high priority initiatives in need of funding, only about 15% of organizations are able to demonstrate this practice.
What makes the achievement of organizations like Washington County, Wisconsin and Shawnee, Kansas so astounding is that they are not only able to measure and demonstrate clearly their ability to repurpose, but they're doing so on a massive scale: over 10% of their entire budget.
A Blue Print for Impact
Priority Based Budgeting (PBB) and Program Based Budgeting are toolsets, they are frameworks for evaluating options and alternatives with respect to resource allocation decisions, and fundamentally a means to achieve a solution to a particular challenge. The challenge is that most organizations have new programs and services they wish to launch, in order to create a brighter future for their communities, but they don't have the people or the money to launch these new services.
At the same time, for many, the cost of providing current services continues to increase, putting additional strain on the resources available to achieve the Results that matter most to their citizens. Applying PBB, organizations discover solutions to optimize their current resources, and explore opportunities to attain new resources in order to successfully launch the new programs and bolster the highest priority programs required to create the best future they can.
The challenge is one of resource scarcity, for which there are two primary means to create an abundance of resources and overcome the problem. Conceivably, the organization can either change the way it spends or allocates the current resource base it is provided, and/or it can devise of new ways to bring additional resources into it's possession. To solve resource scarcity, both of these levers aim to create new resources, with which the organization can fuel the programs it desires to launch.
Free up, and re-allocate current resources – this approach focuses on the "expense" side of the equation, exploring opportunities to rethink how current resources are being spent. Presumably, one-hundred percent of an organization's budget is the maximum potential of the solutions in this realm of opportunity.

Generate new revenue – this approach focuses on the "revenue" side of the equation, determining opportunities to bring new re- sources into the organization that weren't previously collected.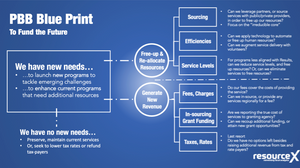 In consideration of opportunities to free up, and re-allocate an organization's current resources, "repurposing," the Blue Print is designed to frame solutions, to literally "tag" programs and services that meet criteria for repurposing, and then measure the sum total of opportunities taken.
In Washington County's case, for example, we can see that 13% of their budget was freed up from a combination of finding shared service solutions with regional partners (the "Sourcing" solution, freeing up 5% of their resources, or $5.3 million dollars); requiring less resources to deliver programs and still achieving the same outcomes ("Efficiencies" in program delivery, for $6.1 million); and lowering service levels, literally doing less and therefore spending less on programs of lower-priority and impact (the "Service Levels" solution, freeing up $1.9 million).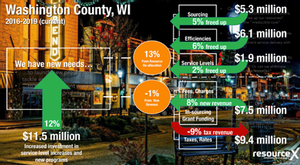 From program efficiencies in the parks, to regional service delivery among neighboring county health services providers, Washington County Administrator Josh Schoemann has led the charge to identify multi-millions in resource reallocation opportunities, (as well as new revenue attainment) allowing the County to marshal and direct $11.5 million to new, high priority programs and program enhancements, despite requiring less and less tax resources from it's citizenry.
On the other end of the spectrum City of Shawnee, Kansas has seen an increase in their local tax base, and yet the City leaders led by city manager Nolan Sunderman and assistant city manager Caitlin Gard have still focused relentlessly on repurposing – fueling new programs by $5.4 million, a 16% overall influx of resources, with only 5% coming from the benefit of a growing tax base.
The psychology of repurposing, even while your tax base grows, is the recognition that balancing the budget or breaking-even is only the bare-minimum, pre-requisite goal of resource stewardship; the higher-level objective is to amass all resources available, primarily through repurposing, to inject into the imperative causes of building a more prosperous community.
In Shawnee, the City went so far as to launch a "Program Mapping" initiative, bringing together over 20 local service providers, to identify program partnership opportunities, in-sourcing, out-sourcing and regional approaches.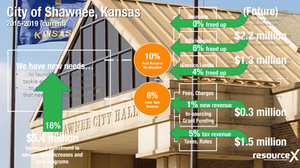 Digitize to Optimize
To reiterate, the 10% resource reallocation achievement is absolutely remarkable, but the goal is to make it normal – attainable for every organization, in order to reinvest in it's community and enrich the lives of it's citizens. To get there, we need the data to know where repurposing opportunities exist, and we need a scoreboard to demonstrate the measurement of resources reallocated.
Leveraging your line-item budget
The Line-item Budget is organized to satisfy regulatory standards, create effective budget monitoring and control mechanisms, provide transparency and accountability as a best practice in budgeting. However, it does not provide adequate insights into the costs of providing specific programs, nor arm us with the business analytics needed to open up resource re-allocation and revenue generation opportunities.

Layer in Programs
To get to the answer of questions such as "can we do this program more efficiently," and "are we the best source to provide this service," or "are we charging appropriately to recover our costs for fee-driven programs" requires us to know what programs do we offer, how much do they cost, and how much are we charging.
Leveraging your line-item budget data, we can create an additional layer of data (a "Program Inventory") to describe the programs offered by your organization, and apply a process technique (Cost-allocation and Revenue-allocation) to produce a fundamentally transformative data-set known as a Programmatic Budget.

According to the Government Finance Officers Association (GFOA), "Program Budgeting is an underlying assumption to many of GFOA's budgeting best practices, and being able to connect costs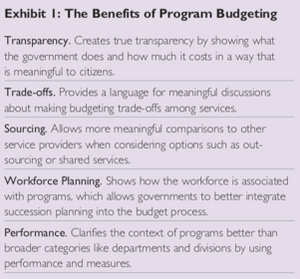 and outcomes associated with specific services is critical to communicating value to citizens." A program budget shows exactly what the government does, how much it costs, and what the tradeoffs are.
With GFOA's Shayne Kavanagh, ResourceX co-founder Chris Fabian established the best practices in creating an effective Program Inventory, as well as executing a consistent and accurate approach to cost (and revenue) allocation to efficiently implement a Programmatic Budgeting approach.
And with the key business intelligence that a Program Budget data set creates, an effective path to "taking action on the data" via trade-off decisions, workforce planning, sourcing and other crucial conversations, became the subject of the Government Finance Review's journal publication on the topic: downloadable here.
Just as Programmatic Budgeting builds on and makes use of your line-item data to create more actionable insights at the program level; your organization may consider layering additional data in future years to embark upon Priority-Based Budgeting and even Performance-Based Budgeting.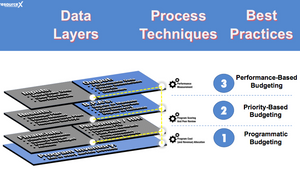 Programmatic Budgeting is a foundational data set that unlocks insights pertaining to program efficiency, service levels, and cost recovery opportunities, and that's why it's a Best Practice. In future years, you will be well equipped to consider additional Best Practices:
Layering strategic planning data, outcomes, mission and vision, and connecting them via a Program Scoring process, your organization can unlock the insights of program relevancy achieved through Priority Based Budgeting.

Layering on metrics, input measures and outcome assessments (including citizen satisfaction surveys), and connecting them via measurement assessment, your organization can unlock the insights of program performance achieved through Performance Based Budgeting.
Conclusions
As referenced before, here's how What Works Cities Director of City Solutions Clarence Wardell (The Adaptive Budget: How Cities Are Repurposing Funds to Invest in Impact) advocates and guides those new to repurposing.
How would you explain the value of repurposing to someone who is new to the concept?
"Repurposing helps cities reexamine their status quo. In many cases, if a city is in a good budgetary environment, unless there is a reason to question why a program or service has received funding, ineffective programs can continue to exist, even if they are decidedly not achieving the intended results for residents."
"In the government innovation space, we want cities to experiment with different programs and services to improve the lives of residents, but we know that not every program will work. Repurposing at its core is about helping cities to constantly take stock of the resources that they are distributing across their programs and pushing them to get the best use of those resources — both in terms of what the evidence says about which programs work and what residents are saying about programs. We are pushing cities to invest in resident-centered programs and services, and building the skill set of cities to do so on a regular basis. Repurposing is unique because it's not just shutting down a program — it's building the muscle to say:"
"There is an opportunity cost to every investment we make, and these are dollars that should be put toward programs that are helping us address our biggest challenges in a demonstrable way."
To learn more about "Repurposing through Program Budgeting" contact ResourceX or to learn more from leading PBB innovators across North America, be sure to attend the 2019 Priority Based Budgeting Summit in Denver this August! Find out more and register here!