"This regional approach to understanding program commonality across a community (city, school district, hospitals, county, non-profit organizations and other private sector entities) is unleashing powerful and abundant partnership opportunities in an incredibly original way."
Program Mapping is a unique solution, designed specifically to optimize the alignment of resources across a region with the results that matter most to it's taxpayers. The regional optimization of resources through shared services!
Local governments are facing unprecedented challenges due to COVID-19. Never before have communities faced the twin challenges of a global health pandemic and economic chaos. In this environment, tax revenues are crumbling while expenses increase. For many organizations, this is requiring substantial and immediate budget adjustments in a constantly evolving environment.
While civic leaders and citizens are stepping up to the occasion, the impact to local government services, budgets and long-term fiscal health will be challenging.
Program Mapping Webinar: Friday April 24th at 11 am MT
Registration has expired. Please see webinar video recording below!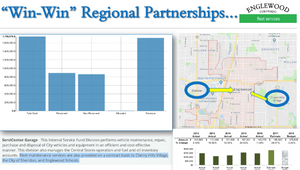 In order to refuel our unique and extraordinary efforts as local governments to dramatically improve the future, municipalities must identify and implement collaborative service and governance opportunities. But how?
The concept is conceptually simple, and yet can sometimes escape us: how can we discover and partner with other organizations in our community who are pursuing the same societal objectives are we are? Can we leverage their efforts, programs and services to tackle the challenges we seek to address in our community? And can we discover opportunities to not only partner but merge and consolidate services, thereby achieving a sub-regional mutually agreed to vision.
Through the breakthrough innovation of Program Mapping, Priority Based Budgeting communities are showing us the way to an entirely different future. By rethinking the services we offer, reassessing (re-understanding) and clarifying why we're relevant to the public, and substantially reallocating the abundance of resources available to government and to every institution serving the public good, these communities have created a profoundly compelling alternative solution to freeing up vast amounts of resources.
And by understanding their opportunities to leverage other service providers – in both the public and private sectors – they are freeing up resources in their community to successfully address enormous fiscal challenges and better plan for the future.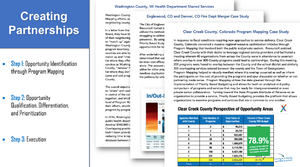 Organizations participating in a Program Mapping initiative come to identify the services they share in common ("match up") with local governments, non-profits and private sector entities in their region. Service-sharing opportunities in common are then to be characterized in terms of partnership, merged/consolidated services, in-sourced regionally provided services, or out-sourced opportunities from the perspective of each participant. And finally, these opportunities are further characterized and prioritized in terms of the magnitude of complexity in implementing a shared-service approach, and the value of the opportunity if it were to be realized.
ResourceX has a proven method for 1.) identifying and maximizing the number of opportunities to explore; 2.) differentiating and prioritizing opportunities to execute upon and; 3.) operationalizing opportunities for the benefit of citizens and the community/communities.
Applying a unique approach to municipal service collaboration known as Program Mapping to the services identified in each community's Program Inventory, regional communities will discover a universe of program partnership opportunities to take action on.
Sign up for our free Program Mapping webinar today!
Related Articles
Leveraging Partnerships to Fund the Future (article and video)
Colorado State-wide Program Mapping Initiative Launches Regional Workshops
Exploring Inter-municipal Collaboration through Program Mapping w/ the Edmonton Chamber of Commerce
Shawnee's Ground Breaking Revolution in Program Mapping through Open PBB Data
Clear Creek County looks to leverage regional service providers – in both the public and private sectors – to form partnerships to free up resources in their community