Reimagining 2020 with Programmatic Data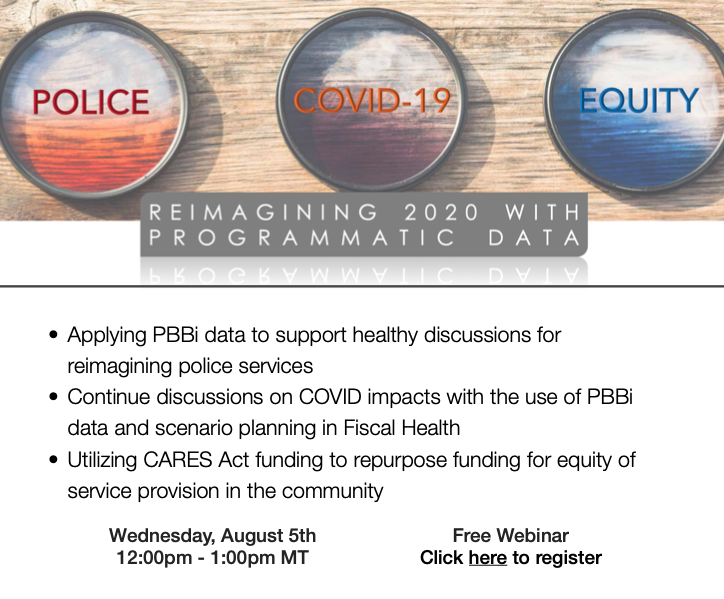 "The time is now to fundamentally evolve the way program-based decisions are made. Returning to "normal" is not an option. By quickly and efficiently evolving to PBBi, using program level data and insights as your guide, you can reprogram your organization to achieve foundational results, outcomes, and thrive!"
Creating data-driven budget decisions requires programmatic data to drive totally new discussions about service delivery, where we can save and reallocate resources, and opportunities to still generate new revenue.
Local Governments need to have programmatic data to base decisions on – knowledge of every program offered, the cost of providing the program, level of service, cost recovery, equity impact, degree of mandate in providing the program, opportunity to partner, etc.
At the intersection of COVID response, implementing equity metrics and reimagining police services, the next wave of budget decisions will be programmatic!
Webinar: Reimagining 2020 with Programmatic Data
Focus:
Applying PBBi data to support healthy discussions for reimagining police services

Continue discussions on COVID impacts with the use of PBBi data and scenario planning in Fiscal Health

Utilizing CARES Act funding to repurpose funding for equity of service provision in the community
Register: Aug 5, 2020 12:00 PM Mountain Time
Additional Resources:
Addressing the Municipal Fiscal Crisis: A 3-Point Plan
How to Fund the Development + Application of Program Based Budget Decisions through the Cares Act
Applying Data in Consideration of Repurposing Police Resources and Reimagining Police Services