Creating Community Alignment through Priority Based Budgeting in Duluth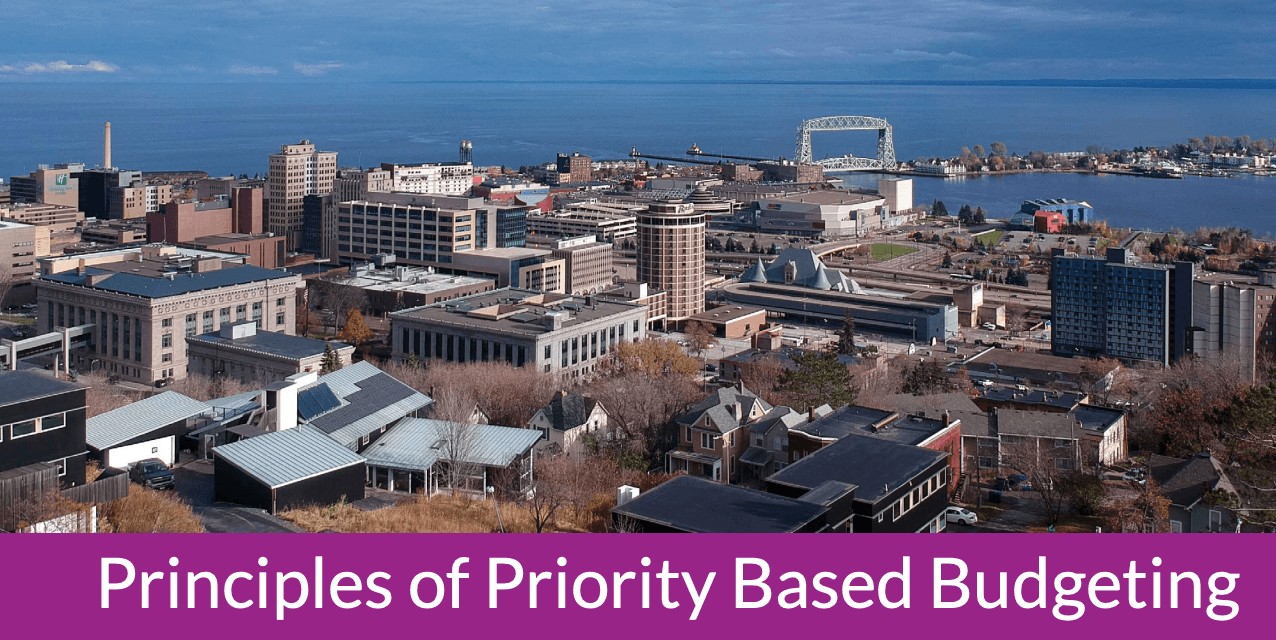 "The City of Duluth, MN faced structural challenges in its budget, given some of the city's particular needs and obligations. Priority based budgeting helped the city align its revenues, expenditures, and values."
ResourceX loves to share stories from our experiences with municipalities. Still, it is never more powerful than when we hear it straight from those who have lived and breathed the process of implementing Priority Based Budgeting and putting the data to work.
The April 2021 article in GFOA's Government Finance Review features an article written by Jen Carlson, Finance Director, City of Duluth, Minnesota, that does just that. This article celebrates the impact Priority Based Budgeting can have on a city and its residents and highlights the organization's leadership for implementing and owning their data.

Jen Carlson was a PBB advocate before it was popular in the City of Duluth. She brought in PBB while serving as the Budget Manager, and she worked hard to encourage department directors to engage in the data creation process. Jen walked the walk as she pushed her own department to integrate PBB into their daily, weekly, monthly and annual functions. She celebrated wins, both big and small; she even hand-delivered cupcakes across the city to thank those directors participating in the implementation.

But what truly sets Jen and the City of Duluth apart is their willingness to innovate the process to identify needs from both the organization and the resident. Jen created an environment where PBB became a conversational tool in meetings setting up cross-departmental budget request reviews. She also created a game where citizens could communicate the issues most important to them. Her ability to engage with the data and the people has been a driving force in the success of PBB in the City of Duluth.
We hope you enjoy this article from GFOA's Government Finance Review:
Budgeting is just as much about values and priorities as it is about dollars. In times of fiscal distress, however, we often ignore those principles in favor of just getting the budget balanced. But in times of fiscal stress, it's even more important for governments to communicate their priorities and values to improve budget transparency, demonstrate fairness, and help justify difficult decisions. In this section, we will look at practical strategies to help you prioritize your organization's values and develop a framework to make those tough decisions and communicate them to those who are most affected.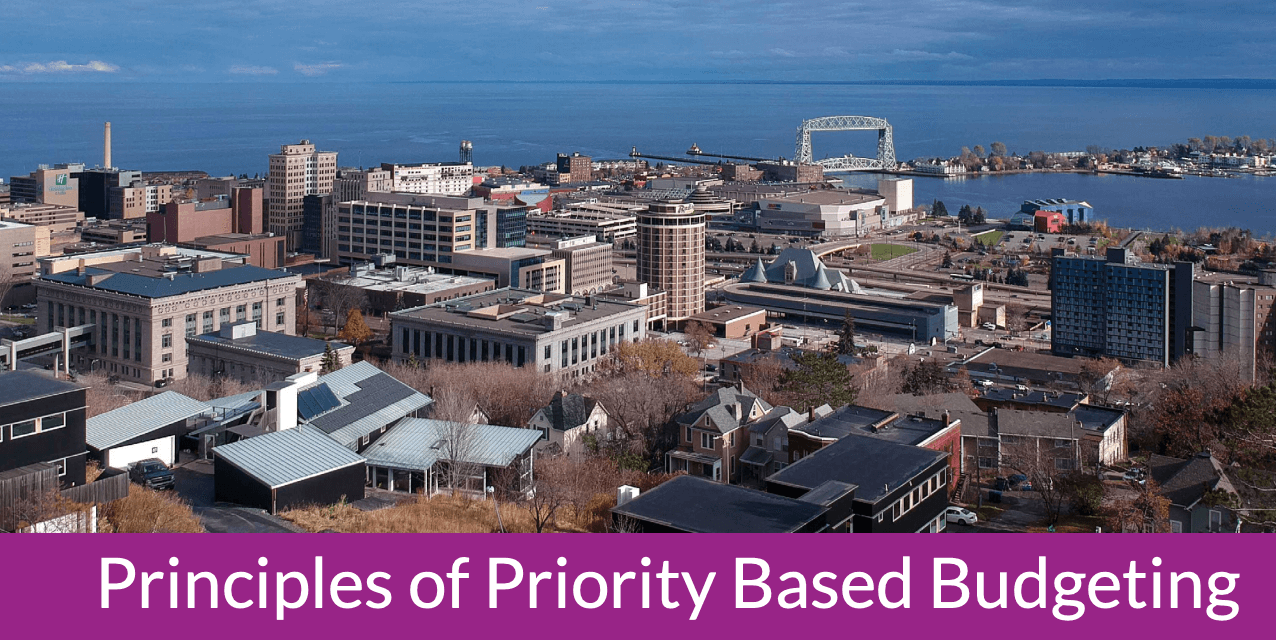 The City of Duluth, Minnesota, is a beautiful, long city built narrowly on a hillside next to the world's largest freshwater lake, Lake Superior. Because of its dramatic landscape and geographic location, Duluth experiences a lot of weather extremes from heavy snowfalls to powerful storms. Duluth's scenic location and 23-mile length make it challenging to provide core government services (public safety) and operate utilities (water, natural gas, stormwater, sewer, and steam), and to manage other community assets.

More than 70% of the city's general fund revenues comes from three sources, the largest of which is local government aid from the State of Minnesota— approximately a third of the city's budget. The formula for local government aid is determined by the state, and it compares the city's spending needs to its ability to fund services. The amount of local government aid is relatively fixed, with no growth factor built in. Property tax is the city's second-largest revenue source, followed by sales tax. These three sources make up 70% of general fund revenues, and costs of services have a higher rate of appreciation than their revenue increases.

The only revenue source Duluth can control is property tax, which we try to keep as low as possible. The challenge is that while 70% of its revenues aren't projected to keep pace with inflation, over 84% of Duluth's expenditures are, creating a structural imbalance and a budget gap.

As the City worked to solve the 2018 budget deficit, they had recently adopted a land use plan called Imagine Duluth 2035: Forward Together. Imagine Duluth 2035 was a very community-oriented process. The community's priorities outlined in the land use plan included economic development, energy and conservation, housing, open space, and transportation. While they had a land use plan, they didn't have a way to align the budget and resources to the plan. Faced with two options: shelve the Imagine Duluth 2035 plan or start putting it into action.
To read the rest of this GFOA article (Priority Based Budgeting Creates Community Alignment in Duluth) written by Duluth Finance Director Jennifer Carlson, click here.
Related Articles:
Priority Based Budgeting in Duluth (Infographic)
City of Duluth Launches #PBB Budget Game & Engages with 800+ Citizens in First Week!