Your Community's Best Budget! A Learning Lab Experience at TLG in Tacoma!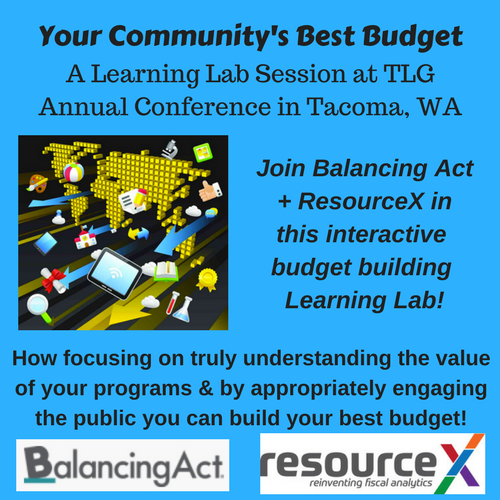 "All organizations, yours included, are "ready" to become data-driven, to become more authentically transparent, to pursue stewardship of resources from a new angle, to reallocate resources towards their highest priorities!"
Priority based budgeting is a unique and innovative approach to budget planning which enables organizations to effectively match available resources with priorities. The underlying philosophy is about how governments, corporations and organizations allocate fiscal, physical and human resources to meet their stated objectives.
We are psyched to engage with our peers, friends and partners at this upcoming event to spread the word about priority based budgeting and how to use data and evidence to achieve results! We will be exhibiting and hosting a Learning Lab at TLG. We hope to connect with you in April in Tacoma!
Alliance for Innovation Transforming Local Government Conference
April 3 - 6, 2018 in Tacoma, Washington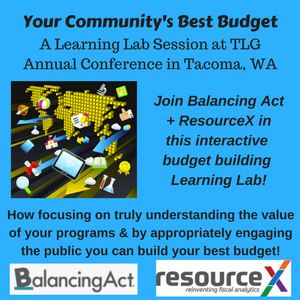 This year's Transforming Local Government Conference is so exciting! Not only will ResourceX and the Center for Priority Based Budgeting be exhibiting and engaging, but the event is held in the City of Tacoma, and Team Tacoma is well on their way to becoming priority based budgeting all-stars!
We will also be co-hosting a special Learning Lab with Balancing Act! Your Community's Best Budget will guide organizations through public engagement and program budgeting and development. Look for interactive demonstrations of online tools as we engage with city leaders looking to use date + evidence to build their community's best budget!
Your Community's Best Budget Learning Lab will be held on Wednesday, April 3rd, between 3 pm and 4 pm in Room 407. We will see you there!