"By freeing up our staff, our time, and our dollars from investments less aligned with our goals, we can redirect vast amounts of resources, and pour energy towards those programs that are already highly aligned with community goals and new programs we need to start to achieve the Results of tomorrow."
Priority based budgeting is a leading best practice in local government and a powerful lever for change. The budget is a mechanism to translate our ambitions, our visions for the future, and our policies into the actions of service delivery, fueled by resources (people, time and money).
The priority based budgeting community is a growing movement across North America. Our civic partners (representing cities, counties, school districts, special districts and non-profits) are located in every region, nearly every US state and multiple Canadian provinces.
The PBB community consists of organizations just getting started with PBB and those who are actively achieving multiple levels of budgeting mastery (see the 4 Levels of Budget Mastery article + video here).
Some communities are also expanding into our online fiscal health platforms while others are engaging citizens and the community through our Open PBB Data portal.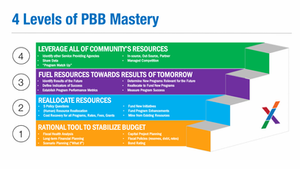 What we are most proud of is the opportunity to partner with so many dynamic organizations who are committed to using priority based budgeting, fiscal health and/or open PBB data in an effort to apply data and evidence to transparently and exponentially improve results for citizens and the community.
At the beginning of 2015, over 80 communities across North America have implemented Priority Based Budgeting (PBB), impacting over 11 million residents across the US and Canada.
Now in 2018, over 200 cities, counties, school districts and special districts will be practicing PBB and applying PBB data, using the process and tools to reshape the way all of a community's resources are leveraged to achieve transformational Results, and inviting residents further into an authentic role of influence and participation.
Learn more about our civic partners on our PBB Community page here.
ResourceX provides the software solution and powerful analytic tools to implement a priority based budget using data and evidence to transparently and exponentially improve results for citizens and the community.
To find out more about how your organization can engage with Team PBB, be sure to attend the PBB Bootcamp & Summit in Denver, Colorado this August!