How Marathon County Applies PBB Data for Strategic Budgeting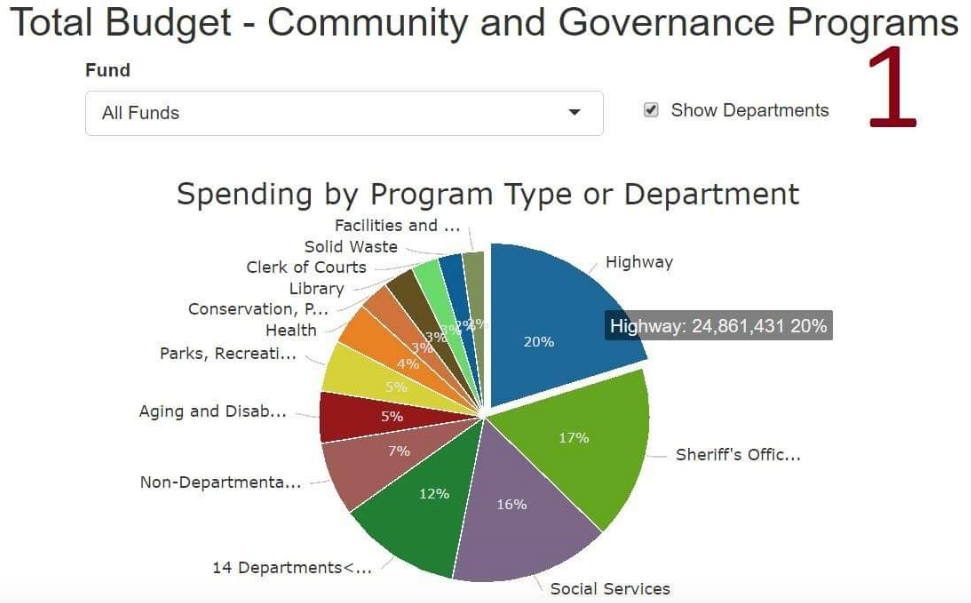 "At its core, Priority-Based Budgeting calls for us to be comprehensive and strategic in our efforts to accomplish our mission to make Marathon County the healthiest, safest, and most prosperous county in the state."
"At its most basic, Priority-Based Budgeting gets us to think about our programs as investments, rather than simply as costs. We want to invest our resources in programs that meet our goals, as opposed to simply continuing to fund programs that we have funded in the past."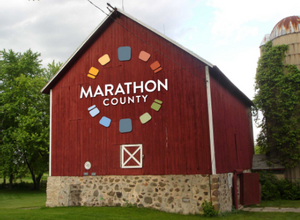 Marathon County, Wisconsin first launched Priority Based Budgeting in 2016 in development of their 2017 budget. Having furthered their practice in 2018, they are now entering their third year of budgeting through the lens of PBB for the 2019 budget.
County Administrator Brad Karger wrote this about the County's rationale for infusing PBB into the County's culture for resource allocation:
"160 million dollars ($160,000,000) is A LOT of money. That's the size of Marathon County's annual budget.
So don't let anybody tell you that the County is broke— We are FAR from broke.
The real challenge we face is that every year, our operational costs go up 2 million dollars ($2,000,000) while the State- imposed levy caps limit us to a half million dollars ($500,000) in new tax levy. This means that pretty much every year we start the budget process with a 1.5 million dollar ($1,500,000) deficit just to cover the same slate of items we did the year prior."
According to Brad, Marathon County, like other local governments trying their hardest to make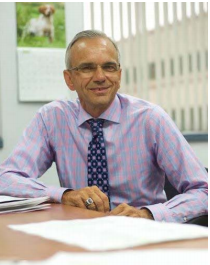 ends meet, has tried most all other strategies:
"I've been in leadership for a long time, and we've used a number of strategies to address this deficit:
· Across-the-board cuts
· Pay freezes and asking employees to shoulder more of the cost of their health benefits
· Reducing the size of our workforce
· Energy-conservation measures
· Spending down reserves
All these strategies have worked, but they've taken us about as far as they can. In preparing the budget, we will aspire higher.
We want our lower priority programs to be the funding source for our most impactful, highest priority initiatives. Complaining about State mandates and declaring ourselves victims of a State-imposed system is pretty standard stuff for local officials, but it isn't going to accomplish much and, more than anything, it will contribute to a loss of public confidence in us as leaders. We need to FIRST get our priorities straight and THEN align our money with our stated priorities."
Most remarkable, as the 2019 budget was approached, County Board Supervisor Katie Rosenberg reflected on how PBB has become accessible for elected officials to understand, to talk about and take action on – exactly the objective of PBB.
Taking Action on the Data
In preparation for the Marathon County 2019 budget, County Board Supervisor Katie Rosenberg posted her reflections on analyzing and applying PBB data.
"It's budget season. That means the process for figuring out how to fund the county's priorities is in full swing. The Finance Committee met last week to go through the budget and the full County Board will get a chance to discuss it next month.
One of the tools we have in Marathon County is Priority Based Budgeting (PBB) software. We're able to look back at the budget in several different ways and determine how efficient our spending is based on specific criteria. This is really great for a visual person like me.
I took some screen grabs to show an example of how we can use PBB to drill down into the budget results. The first image shows the entire 2017 budget, broken down by department. You can see how the highway department is the biggest percentage of the budget at about 24.9M."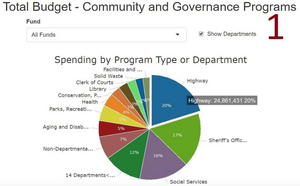 "Digging into just the highway department budget, you see how that spend breaks out into quartiles. That's picture two."

"In picture three you can see the quartile criteria. Programs that are mandated by state or federal statute, where the county is the only provider, where the cost is offset by revenue, where we're seeing a big increase in demand, and that serve a big percentage of the population are ranked higher."

"Picture four shows the breakdown of quartile one programs. Unsurprisingly, the largest part of the highway budget was the asphalt program."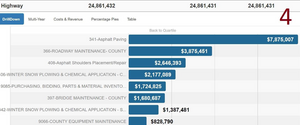 "Finally, picture five shows why the asphalt program was ranked in quartile one. You can see it is a mandated service and serves a large part of the population."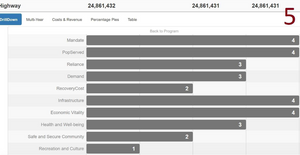 "So why is looking back at past budgets like this helpful? For me, it gives me a way of judging the programs we're asked to continue funding and ask questions, like: Are they effective? Are they required? Who are they helping? PBB is still a relatively new tool to the county so we're still learning how to use it in the most helpful ways."
Congratulations to Marathon County, WI in their work transitioning from implementing PBB to applying PBB data for actionable decision-making! You are on the right path!
Related Articles:
Brad Karger, County Administrator, 2018 Budget Message (p. 4)
Priority Based Budgeting in Marathon County 2016 (p. 8)
How Marathon County, WI gets their Priorities Straight