"By freeing up our staff, our time, and our dollars from investments less aligned with our goals, we can redirect vast amounts of resources, and pour energy towards those programs that are already highly aligned with community goals and new programs we need to start to achieve the Results of tomorrow."
Downtown Denver, Colorado | The Alliance Center | August 8 - 10, 2018
ResourceX invites you to the 2018 PBB Boot Camp & Summit! With nearly 200 cities, counties, school districts and special districts across North America practicing PBB and applying PBB data, the time is now for your organization to achieve transformational results for your community!
Whether you're new to Priority Based Budgeting, or a current practitioner of PBB, you have come to the realization and accepted the fact that budgeting is a powerful lever for change. The budget is a mechanism to translate our ambitions, our visions for the future, and our policies into the actions of service delivery, fueled by resources (people, time and money).
We now have registrations from dozens of organizations spanning 19 states and 2 provinces across North America! The time is now to learn and engage with the top PBB influencers and the PBB community!
See you in Denver! Register today!
PBB Boot Camp: August 8, 2018 / $695 per person
Develop a prioritized budget! The PBB "Boot Camp" is a first of it kind workshop for new organizations to launch PBB. Attendees will use live data to develop program inventories, allocate costs, and prioritize programs. At the end of this workshop you will have developed your own Online PBB model and the knowledge to apply PBB data in your organization! Discover "why should I attend" Bootcamp Facts here!
PBB Summit: August 9 -10, 2018 / $395 per person
Learn how to apply PBB data from ResourceX, all-star local government PBB implementers and the most innovative PBB Data Officers across North America!
PBB Bootcamp & Summit (bundled) / Package Price $895 per person
At the 2018 PBB Boot Camp + Summit you will obtain the tools, resources and training for every community to apply PBB data for actionable decision-making! Find out "why you should attend" the 2018 PBB Summit here!
Agenda, Speakers + 2018 PBB Summit Initiatives
Check out the PBB Bootcamp & Summit agenda, speakers and major 2018 PBB Summit themes.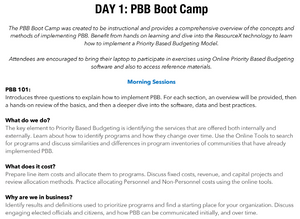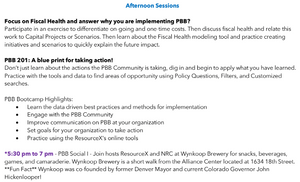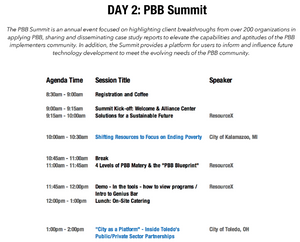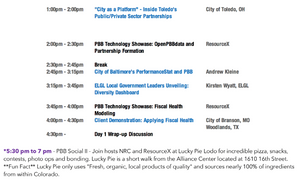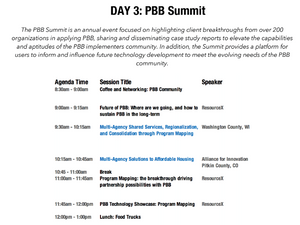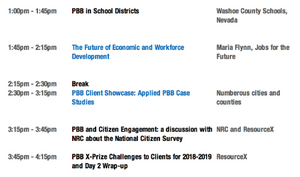 PBB Bootcamp & Summit Goals + Initiatives



If you need more reasons to attend, check out our short
2018 PBB Bootcamp & Summit video overview below!
The 2018 PBB Boot Camp & Summit is brought to you in partnership with the National Research Center (NRC), Alliance for Innovation (AFI) and ELGL (Connect, Communicate, Educate). We are thrilled to have NRC, ELGL + AFI engage with us and lead panel discussions again this year.
Please support these unique and innovative organizations who contribute so much to local government. Thank you partners!