A 5-Tiered Plan for Prioritizing One-Time ARP Funds for Long-Term Sustainability

Premise and Problem Statement

The American Rescue Plan (ARP) infuses $350 billion into local governments, easing the immediate financial trauma facing most every community across the country, and providing options to overcome shortfalls and simultaneously rebuild for a stronger, more sustainable future.
While the funding is undoubtedly a blessing to communities in crisis, there also comes with it a predicament: how best to invest?

The tension facing many decision-makers centers on the best use of one-time funding, given so many needs for these resources that are both one-time as well as ongoing.
On the one-hand, who can blame leaders who see this miraculous support in one-time funding as a means to avoid layoffs and deep cuts in services that impact residents?

There's a side to this debate that favors keeping jobs, restoring what was cut, and building back to where we were, pre-Covid.

And on the other hand, we all realize the perils of using one-time funding as temporary, bridge-the-gap solution to ongoing, structural deficits – it kicks the can down the road.

This side of the debate argues that now is the time for disciplined prioritization of one-time money to look forward, not backward.
The position that we'll establish in this paper is that there's both a short-term (immediate) and long-term strategy needed. There are urgent needs, right now, demanding resources. And yet, this funding presents a once in a lifetime opportunity to invest (and invest meaningfully) into building a long-term, sustainable future. Where are the win-win investments that eliminate the tension and achieve both goals?

Local government leaders stand to benefit from a decision-making framework that creates insights towards both objectives, and addresses the following questions:
What should be the right order of funding, from meeting the needs of people in need, to creating long-term opportunities, restoring fund balance, or restoring programs?
How do we best evaluate requests to restore programs that were reduced in light of the relative priority of those programs, and with longer term opportunities more in line with our vision?
How do we prioritize this one-time funding, especially as ongoing, programmatic (and likely personnel related) needs are presented?
How can we identify and prioritize capital investments that have the potential to create ongoing savings?
Watch this video as Chris Fabian dives deep into "Five for the Future" American Rescue Plan allocation strategies.
Five for the Future: 5-Tiered Resource Allocation Plan for the Short and Long-term
Short-term Strategy (within next 6-12 months)
Decision-makers in the near-term will face immense pressure in determining where ARP funds should be allocated. In spite of best practices and policy guidance urging caution with the use of one-time monies (like ARP funding) to fulfill ongoing needs, we must empathize with, and have a strategic solution for pressures such as the following:
Providing immediate relief to residents in crisis

Backfilling depleted reserves

Restoring funding to high-priority programs and services cut back in 2020, especially as it pertains to budgeted plans for impending layoffs
In the immediate term (next 6-months to 1-year), our guidance is to clearly identify funding made available for the following priorities:
Tier 1:

People in Need (Immediate Relief) – programmatic funding treated as one-time (6-12 month commitment, with an opportunity to revisit) support, should be made immediately available for direct support to community members, residents and businesses most vulnerable and in need. To the greatest extent possible, decision-makers should try to avoid duplicate support where numerous funding opportunities exist within ARP.

Tier 2:

Emergency Budget Stabilization

– many communities tapped readily available reserve funds in 2020, in order to bridge ongoing revenue shortfalls. Resources should be made available to begin replenishing reserves, and ensuring debt service and contractual obligations are met. Reserve restoration doesn't have to happen all at once, and can be measured out and balanced relative to other priorities.

Tier 3:

Prioritize Budget Amendments

– if your organization had planned service level reductions and budgeted for them (especially as it pertains to layoffs), the opportunity presents itself to consider amending your budget. Restoring funding to programs (including both personnel and non-personnel) should be treated similarly to new business cases in your budget development process, giving consideration to programs that have the greatest degree of alignment with your community's priorities.
Longer-term Strategy (within next 1- 3 years)
While the short-term strategy addresses undeniable and urgent needs in your community, our long-term strategy focuses on creating long-term sustainability and resiliency, leveraging the power of unprecedented resources to commit to your most challenging goals, and building capacity and skills to be better prepared in the future. The opportunity that ARP funding provides local government leaders is to:
Boldly invest in your community's long-term priorities

Harness the power of regional resource alignment across multi-organizational, networked enterprises in pursuit of common objectives

Invest in innovations that create long-term savings (capable of providing a sustained supply of resources to fuel towards the future)
In the immediate term (within the next 12 months to 3-years), our goal has to be about capitalizing on this:
Tier 4:

Leverage Partners – conditions could not be much better for collaboration among well-funded organizations bound by shared purpose. Government Finance Officer's Association has written extensively about the power of networked enterprises, recognizing that "many problems of greatest concern to the public require the efforts of multiple sectors and may not fall squarely within the locus of responsibility of one local government jurisdiction; and individual communities are better off when the whole region prospers." Take advantage of this opportunity to explore joint ventures among your partners

Tier 5:

Big Swings – our final guidance is to carve out resources for "big swings." We're defining big swings in two components. First, pursue bold investments in the priorities of your community to accelerate a better future – whether it's funding your climate action plan, advancing equity among your residents, creating economic opportunity, or whatever your priorities are, this is a once in a lifetime opportunity to deeply commit to positive change. Secondly, fund the pursuit of resource reallocation opportunities at the program level, with an objective of generating a recurring source of funds equivalent or greater than your community's level of ARP funding – what better way than this (spending some, to save more) to turn a once in a lifetime opportunity, into an annual source of abundance.

Summary and Next Steps
Our "five for the future" plan is designed to successfully navigate the tension facing decision makers between addressing urgent, short-term needs and building long-term prosperity. We now know there are likely to be two tranches of funding, and therefore the pressure to commit the first tranche to needs represented by Tier 1, 2 and 3 will be immense. If possible, hold out at least some portion of the first tranche for Tier 4 and Tier 5 strategies and set them in motion.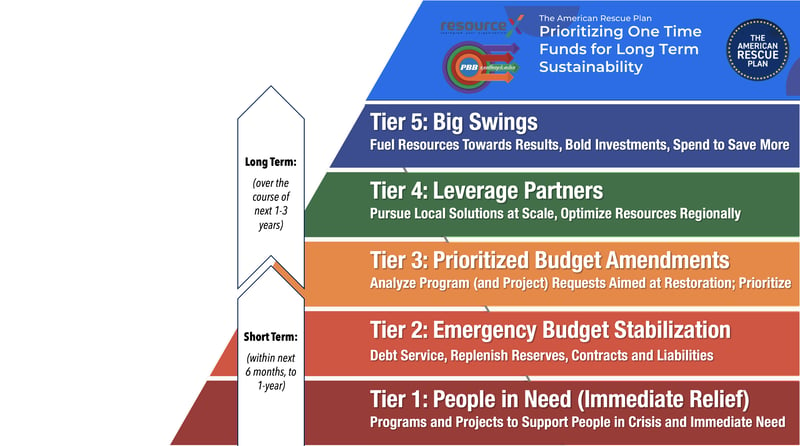 For organizations in the Priority Based Budgeting (PBB) community, programmatic data is key to executing these strategies, and the PBB framework establishes a clear process for evaluating and prioritizing funding. For those not yet in the community, creating programmatic data will go a long way towards setting you up for long-term success.
Tier 1:

initiate program reviews via Insight Workshop, tagging programs with direct connection with your most vulnerable populations.

Tier 2:

identify programs funded by use of one-time reserves for ongoing support, and analyze through PBB to alleviate reliance on reserves.

Tier 3:

conduct an interim budget development process to evaluate proposals to amend the budget, tying personnel and non-personnel requests to programs.

Tier 4:

leverage program inventory data, reliance data, and results alignment data to identify regional partnerships, and conduct a program mapping insight workshop.

Tier 5:

conduct a future-focused insights workshop at both the program and project-level to identify bold investments. Conduct an insights workshop applying the blueprint to achieve sustainable, recurring source of ongoing resources via reallocation.

Be sure to register for our free American Rescue Plan webinar "Prioritizing One Time Funds for Long Term Sustainability" on Thursday, March 25th.