ResourceX excited to announce new Climate Advisor

David Young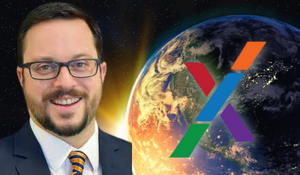 Local governments are facing unprecedented new challenges today. Issues confronting communities include climate change, societal inequity, aging infrastructure, and so much more. Today's leaders are tasked with addressing monumental challenges and have limited budgets and resources to do so.
To help take our team to the next level to support communities in tackling and solving these issues, ResourceX is excited to announce the addition of Grant Ervin as the new ResourceX Climate Advisor. Grant serves as Director of Environmental, Social, Governance and Innovation for S&B USA Construction, an infrastructure development and construction firm; and as a Senior Fellow for ICLEI-Local Governments for Sustainability USA.
Grant will educate, connect, and provide leadership to climate-focused organizations and municipalities for climate action through ResourceX solutions to make a regional, national, and global impact.
What was the most favorable outcome of your application of
program data working towards your climate action goals?
As the ResourceX Climate Advisor, Grant will expand the climate network and engage with leading U.S. and global climate action organizations to help educate and advocate for climate budgeting opportunities and solutions.
"I'm excited to serve as a climate advisor to ResourceX and support the ability of their team and clients to unlock resources to solve the climate challenge," said Grant

"Reducing carbon emissions and addressing the need for climate resilience is a functional choice that every local community has the power to influence on behalf of their residents and stakeholders. From purchasing low emissions solutions like electric vehicles or renewable energy to mitigating flood impacts or investing in robust community engagement, local governments can align their priorities with their financial resources to create meaningful outcomes."
Grant joins ResourceX from the City of Pittsburgh, where he served as the Chief Resilience Officer and Assistant Director for the Department of City Planning. Grant's experience in making the City of Pittsburgh an innovative, sustainable, and resilient city will be an excellent asset for ResourceX.

Grant brings a skillset and nature of fostering partnerships, leveraging assets, and creative problem-solving. He is very familiar with ResourceX's Priority Based Budging (PBB) as he was integral in implementing it for the City of Pittsburgh.
Who are some of the main regional actors
besides cities and local government?
Chris Fabian, Co-Founder and CEO of ResourceX, shares in the excitement about welcoming Grant to the ResourceX team.
"For a society-level challenge of the magnitude of climate action, local government leaders long for bold solutions and practical approaches. The problem can seem so overwhelming, as wicked problems tend to be," said Chris.

"But if we can set a clear vision, achievable with very practical steps, all backed by budget, we have a path forward. Grant Ervin is one of those leaders who has paved this path for us all to follow. Through our work together in the City of Pittsburgh, we learned what is possible when we can prioritize climate action in the budget process. We are overwhelmingly grateful to partner with Grant to bring others along the path – there's no time to waste."
Grant also served as the Regional Director for 10,000 Friends of Pennsylvania, a statewide sustainable development policy organization, and Public Policy Manager for Pittsburgh Community Reinvestment Group (PCRG).
Grant will make his ResourceX debut in honor of Earth Day by joining Chris for a Connecting Climate Priorities to the Budget Process webinar hosted by ICMA on Wednesday, April 20, at noon CST.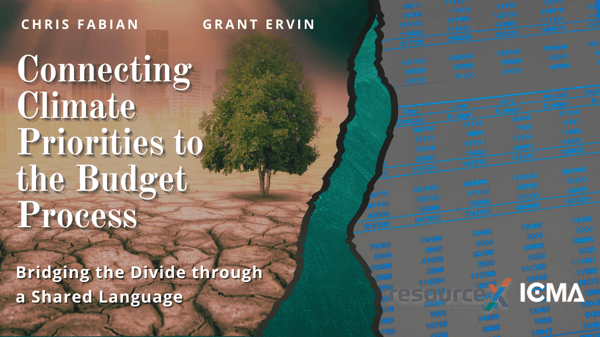 Grant will discuss bridging the divide through a common, programmatic language and how local governments must address multiple issues at once today with limited resources.
In this webinar, participants will learn how organizations can assemble and activate a climate budget by:
Creating a program dataset

Measuring all programs against climate action goals

Developing and applying insights

Accelerating investments in infrastructure and initiatives to address the climate challenge
Join us for this webinar to learn about drawing a line between climate goals and budget goals and welcome Grant to the ResourceX team.