"... it is gratifying to have these efforts recognized. Clearly seeing community priorities reflected in our business plans and budget also sets the bar high in transparency." - Strathcona Mayor Roxanne Carr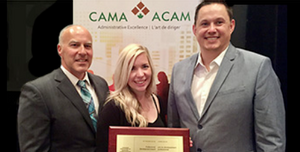 Strathcona County was honoured by the Canadian Association of Municipal Administrators (CAMA) with a 2017 Professional Development Award in the 20,001 to 100,000 population category. The award recognizes the county's priority-based budgeting (PBB) approach to business planning and budgeting. It was presented to county representatives at the CAMA conference in Gatineau, Quebec.
"Council has been working closely with administration since 2015 to adopt PBB," says Mayor Roxanne Carr, "so it is gratifying to have these efforts recognized. Clearly seeing community priorities reflected in our business plans and budget also sets the bar high in transparency.
"Leading to Budget 2017, a review of all County programs provided us with a better understanding of the programs we deliver, at what level of service, and at what cost, as well as the strength of program alignment to Council-defined priorities. Using these tools has also led to efficiencies and cost savings, by reallocating resources within and between departments to fund areas of higher priority, and reducing levels of support for lower priority areas."
Strathcona County, Alberta, Canada, has been leading the way in priority based business planning and budgeting. As the first municipality in Canada to implement online PBB, this will result in Strathcona County being more proactive, strategic and effective in program and service delivery.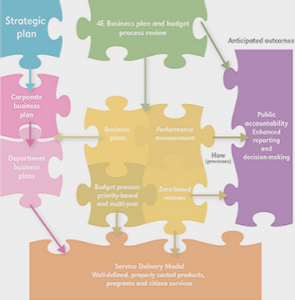 Strathcona County is not only among the leading implementers of PBB who are driving this evolution; the County's leaders in many ways are responsible for creating the evolution. The following four stories illuminate the County's pioneering innovations that have all become PBB best practices: 1. Priority Based Business Planning and Budgeting – Strathcona County's PBB budget process provides a tool for allocating resources within a broader and all encompassing Strategic Plan and Business Planning framework. This is the most comprehensive integration of PBB within a policy-guiding Strategic Plan, and a Business Plan designed to drive organizational excellence. PBB is a resource allocation tool that depends on strong policy vision and direction, and a mechanism to infuse policy into operations – Strathcona County's implementation has set the bar at new heights in this regard. 2. Staff empowerment – Ultimately, the "lens" that PBB establishes to guide resource re-allocation decisions is only a tool; the lens serves no purpose, but to serve the "trained eyes" of policy makers, executive administration, and ultimately citizens. Here again, Strathcona County took a completely unique approach, as they designed and implemented a County-wide training program to teach each department how to use the PBB tool suite, how to understand the programs highlighted as opportunity areas, and how to drive recommendations for resource reallocation. This approach is now being recommended to all PBB implementers using Strathcona's training materials. 3. Capital Project Prioritization – Many have talked about, many have desired to do it, but Strathcona County was among the very first to actually implement and integrate an evaluation of Capital Projects using PBB methodology. 4. Open PBB Data – In the "Coming Soon" category of innovation, Strathcona County will once again lead the way as they plan to roll out an "open data" initiative, leveraging their PBB data.
To read the full award article click here! Click here to learn more about priority based business planning & budgeting.

www.ResourceX.net