Author Ryan Holiday said, "The obstacle in the path becomes the path."
This quote applies to the mindset and drive behind the ResourceX push to constantly innovate and improve. To grow and move forward sometimes requires an acceptance of the challenges in our path and an understanding that those challenges are worth addressing. Our obstacles help guide us to failure and greatness, for better or worse.
It is the same with government organizations. The decisions and responses to obstacles impact operations today, thus setting the course for our future. And sometimes, it is good to reflect on past obstacles to appreciate how far we have come and where we are going.

For ResourceX, that retrospective time is April 7, when we will rewind the clock to the year 2015, when the paper, "The Challenges to Reveal the Promise of Program Budgeting," was released.
We invite you to join the co-authors of this paper, Chis Fabian, ResourceX CEO and co-founder, and Shayne Kavanagh, Government Finance Officers Association, GFOA, senior manager, to examine how this paper has driven innovation and advancement in budgeting practices and tools over the past seven years and what obstacles we have overcome to create a transformational path ahead for us as innovators and practitioners.
Revisiting the Challenges to Reveal the Promise of Program Budgeting
It was a different time back in 2015 when Shayne and Chris first published their paper. Barack Obama was president, NASA confirmed the presence of water on Mars, and the Star Wars film, The Force Awakens, took box offices by storm.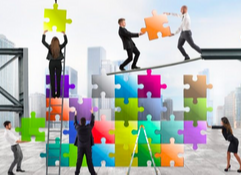 The world was not like it is today, and local government agencies were operating differently. Leaders must act differently today than they did then. And the obstacles local government faces are significant and many.
As local government works to overcome obstacles, such as COVID-19 impacts, climate disasters, community inequity, opioid crises, homelessness, gun control, and so much more, ResourceX, GFOA, and other thought leaders are working to support them in the best ways they can.
In 2015 when Shayne and Chris wrote their essay, "The Challenges and Promise of Program Budgeting," the concept and benefits of program budgeting weren't disputed. Still, an efficient and effective toolset to easily enable this practice was an obstacle in their paths.
The Obstacle is the Way
We recognized the obstacle and chose to make that our path forward. And since 2015, there have been some monumental changes and improvements.
Today, ResourceX is working with our Priority Based Budgeting (PBB) Communities to move beyond outdated systems to achieve a true program-based budget solution within OnlinePBB and advance local government thinking beyond the traditional approach to budgeting. With OnlinePBB Budgeter, we have created a new pathway to achieve budget transformation recognizing the power and potential of program budgeting.

We continue to work closely with organizations, such as GFOA to propel the shift from line-item decision-making to program decision-making within the budget process. Creating a program budgeting solution enables local governments to communicate and share budget decisions in language relevant to how residents experience local government services and demonstrate how they are applying resources to solve our society's problems.
Some major advancements throughout the past seven years include:
GFOA's Distinguished Budget Award now requires program data for consideration

ResourceX just released the first comprehensive P

rogram Budgeting software solution

More and more local governments are utilizing program data to face societal obstacles and apply their budgeting process to advance equity, pursue climate initiatives, recover from COVID-19, and more

Local governments are being challenged to explore budgeting advancements through GFOA, ICMA, and NLC's Rethinking Budgeting Initiative
Why look back?
So what's the point of looking back at this specific essay? Good question!
In this free webinar, Chris and Shayne will look at the purpose and potential of transitioning to a program decision-making process. They will discuss the benefits for organizations, departments, leaders, and residents.
The two will look at the obstacles facing program budgeting practices in 2015 and discuss advancements in resources available to your organizations.
We understood that the obstacle was the way forward.
View the recording of this event here.