"PBB communities are driving innovation, sharing information, applying actionable data, experimenting, advancing lessons learned, and fulfilling the complete mission of PBB to unearth, marshal and re-direct resources towards the betterment of our communities."
ResourceX and the Center for Priority Based Budgeting are psyched and honored to come in at #31 on the ELGL Haverford Awards representing the top 50 companies in North America serving local government communities.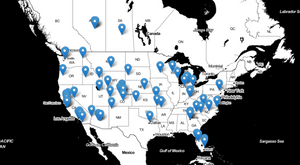 ResourceX PBB Client Map
We're proud of our work partnering with 170+ cities and counties across North America to fundamentally change their approach to resource alignment through Priority Based Budgeting (PBB). PBB contributes to a community's long-term financial sustainability and allows communities to better serve their residents in the most effective, efficient and fiscally responsible manner possible.
ResourceX provides the software solution for priority based budgeting and the powerful analytic tools necessary to achieve results for your community. The design of the analytic tools and reports makes it easy to apply the data for actionable decision-making. The City of Boulder, Colorado recently stated that "priority based budgeting is the "framework" in which all budget decisions are made."
Priority-Based Budgeting was declared a Best Practice by the International City/County Management Association (ICMA), urging every local government in the world to approach resource allocation decisions in the context of what matters most to it's community.
ELGL Haverford Awards
ELGL recently conducted a survey which led to the creation of the Top 50 Local Government Companies. The impact of the 2016 ELGL Choice Award remains — ELGL members are making more informed decisions in selecting vendors and Choice Award winners are gaining new clients.
Now in 2017, you'll notice a major change to the award. Due to his unmatched entrepreneurial skills (Entertainment 720, Rent-A-Swag, and Tom's Bistro), which are shared by many Choice Award winners, we honor Tom Haverford by renaming the Choice Award to recognize his contributes to local government.

The Haverford award honors the best companies working with local governments. The ELGL Evaluation Team will use three criteria in selecting and ranking the top 50 companies: number of nominations received by each company (50%), comments submitted on each company (25%), and input from ELGL Evaluation Team (25%). The ResourceX award profile is below.
31. Resource X/Center for Priority Based Budgeting
ResourceX creates software solutions that help local government leaders prioritize all of their community's resources. They exist so that every community can unearth, marshal and re-direct all of our resources (our taxes, our people, our public and private institutions) to dramatically improve how we achieve safer communities, healthier people, thriving local economies and the Results that serve the betterment of society.
Contact: Erik Fabian efabian@resourcex.net
ELGL Profile: ResourceX (Resource Exploration)
Blog: ResourceX Blog
Supplemental Read: ResourceX in the Motor City for #ELGL17!
ResourceX Haiku:
How to P.B.B. Set Goals, Align Resources Realign the rest
Thanks to our clients, ELGL and ELGL members for recognizing ResourceX as one of the 50 best companies working with local governments. To find out how you can partner with ResourceX to launch PBB in your community and apply actionable data to achieve results contact us today!