The 2022 ResourceX Summit Accelerates Impact in Your Local Government
The best things in life are worth waiting for. The good news is that the wait for the 2022 ResourceX Summit, coming to Denver, Colorado, this August is nearly over. In just a week, the 9th Annual conference kicks off with some of the most influential voices in the local government world.
The Summit takes place Wednesday, Aug. 10 through Friday, Aug 12, at the Curtis Hotel in Downtown Denver, Colorado. This has been a long time coming with the pandemic pausing in-person conferences. We can't wait to return and see all your smiling faces.
We've pulled out all the stops after two years of planning and postponing. We are hosting some great speakers and look forward to sharing knowledge and laughs in person again. It is long overdue.
This year's Summit focuses on Accelerating Impact through 21st Century Budget Transformation. We have an amazing lineup of government game-changers waiting to meet and present to you at the event.
Hear firsthand from leaders and experts who are actively tackling critical issues facing our organizations today like climate, equity, resilience, and recovery. These critical issues are something government leaders across the country are facing.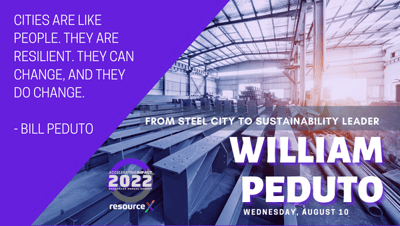 One of our keynote speakers is former Mayor of the City of Pittsburgh, Bill Peduto. From 2014 to 2022, Bill served as Pittsburgh's mayor and led the repositioning of the city from a place of being environmentally and fiscally challenged to one of financial health, climate leadership, and leadership in wrestling with decades of social inequality.
Communities across the country of all sizes face the exact same challenges today and recognize the need to address them. However, far too often, communities fail to understand their power and capacity to do just that.
Join former Mayor Peduto as he shares his experience and expertise in leading the City of Pittsburgh through this significant re-identification and re-prioritization in his Keynote address "From Steel City to Sustainability, the Pittsburgh Story" Wednesday, August 10. Bill's keynote can help communities of any size take these lessons and apply them to their organization.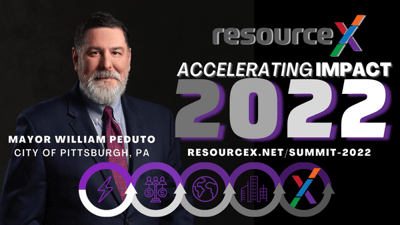 Under Bill's leadership, the City of Pittsburgh not only came back but it came back to become a leader in sustainability and globalization. How did Steel City accomplish this? Bill will explain that local governments cannot afford to be beholden to the status quo of municipal management because the stakes are too high.
Former Mayor Peduto knows from experience that municipalities must use data and reframe the discussion. ResourceX was a critical part of this journey and the City of Pittsburgh's ability to plan, prioritize and recognize its financial capabilities to invest in the challenges of climate and inequality.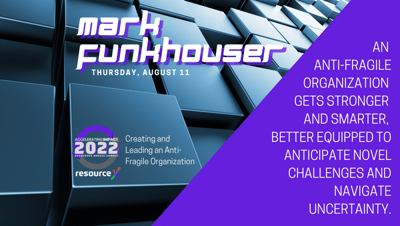 And we aren't stopping there. Come back Thursday afternoon for Mark Funkhouser. Mark, or Mayor Funk as he is known, served the city of Kansas City during the Great Recession. He made the tough choices to ensure the city remained fiscally sustainable throughout the rough times. Today Mark is the President of Funkhouser & Associates, where he loves helping cities nationwide as an advisor.
ResourceX is thrilled to have Mayor Funk join us for the 2022 ResourceX Summit, where he will share decades' worth of experience with attendees at a keynote address.
Mark's veteran leadership experience during the Great Recession and his expertise as a municipal finance advisor during the COVID-19 pandemic make him an ideal speaker to explore the "Creating and Leading an Anti-Fragile Organization" session.
Mark knows that there is more to being an anti-fragile organization than just being resilient. He will share that an anti-fragile organization is flexible and can change its shape and structure in response to unexpected stressors.
Sound difficult? Mark will break it down for you and help your organization get stronger, smarter, and better equipped to anticipate challenges and navigate through uncertainty.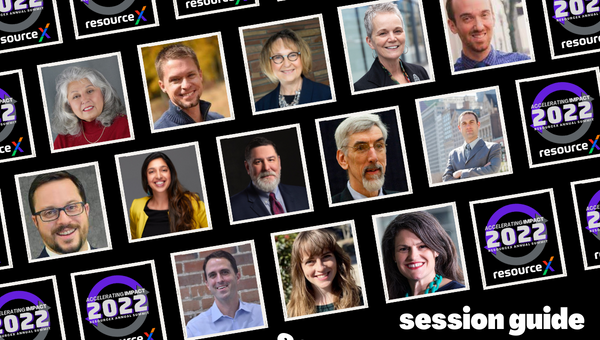 Beyond the two Keynote speakers, we have put together a stellar list of breakout sessions and speakers for you with this year's Summit including:
Katie Ludwig - Senior Manager, GFOA
Anjali Chainani - Founder & Principal, Anavi Strategies
Grant Ervin, Director of ESG and Innovation, S&B Construction
Shayne Kavanagh - Senior Manager Research, GFOA
Angie Fyfe - Executive Director, ICLEI USA
Nick Kittle - CEO, Sustainovation
Laura Solano - Chief of Staff, City of Pueblo
Emily Ferris - Senior Manager, Certification Results for America
Whether you are just learning about PBB or pursuing a specific goal with your PBB data, the speakers and content throughout this 3-day event will be amazing and informative – plus, this is an incredibly fun event! You will walk away glad you came, so register now!
Explore the session guide and check back often as we continue to update it with new sessions and speakers. Don't miss this incredible opportunity. Register now for the 2022 ResourceX Summit.