Pioneering Washoe Schools Leads the Way in Applying Data & Evidence in Education, as the 1st Sch
"This is landmark for education. WCSD is the first to adopt Priority Based Budgeting, taking a substantial leap towards transparency and accountability, and most all of accelerating student achievement with targeted resource allocation." - Chris Fabian, ResourceX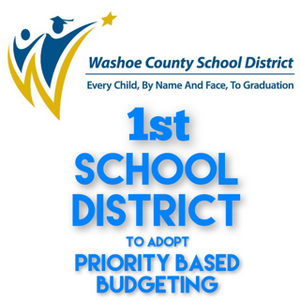 Washoe County School District (WCSD) is the first School District in North America to engage in a powerful new way of budgeting.
In partnership with ResourceX, a Denver-based organization dedicated to helping public and private sector organizations use data and evidence to prioritize resources, WCSD will apply priority based budgeting to establish budget priorities for actionable decision-making in achieving organizational and community results.
Washoe County School District (WCSD) is focused on creating an education system where all students achieve academic success, develop personal and civic responsibility, and achieve career and college readiness for the 21st century. WCSD's students reflect the rich diversity of the community serving urban, suburban, and rural settings.
WCSD recently earned a national ranking as "the best school district in Nevada" by Niche, a company that researches and compiles information on schools. The ranking includes key factors such as the strength of academics, health and safety, diversity, and the quality of teachers.
Additionally, WCSD host their own open data portal (WCSD Data) in an effort to transparently communicate key data and performance metrics to the community. This level of data application and performance monitoring is the perfect attribute and accelerator to priority based budgeting (see City of Toledo Open PBB Data portal here).

ResourceX transforms the way local government(s) define success in their communities, and marshal the resources to bring about its achievement. ResourceX partners with organizations to reassess their priorities, leading to a fundamental change in how organizations allocate fiscal, physical and human resources. Through Priority Based Budgeting and the application of data and evidence, ResourceX has now partnered with over 185 organizations across North America to bring focused results and fiscal sustainability to communities.
Chris Fabian, ResourceX Co-founder states, "It has been a stated objective of ResourceX to be in service to those organizations who are entrusted to push society forward. We started with Local Government and hope to launch our 200th community here in 2018. To be welcomed to the world of education is a monumental honor and responsibility - it was part of our plan, and we're thrilled to embrace the opportunity equipped with the most advanced tools we've ever had available for the District. In our long-view, we hope to serve the world of health care too, as that will allow to make connections between service providers whose missions align in the achievement of a better future for society."
ResourceX was founded to grow the Priority Based Budgeting community using unique tools that enable more organizations to adopt this best practice. Our approach lowers the barriers to implementation and makes it easier than ever before to achieve results. Our focus is to empower clients to take action on the PBB data by making the process and analysis easier through a unique and powerful online application. Our commitment is to continue to evolve to develop better tools and new opportunities for our clients to achieve results.
Actionable Results: Priority Based Budgeting (PBB) helps communities allocate resources to areas where they benefit their community the most and drives success when the budget is increasing, stable, or decreasing.

Best Practice: Priority Based Budgeting is recognized as a best practice by the International City/County Manager's Association (ICMA), Government Finance Officer's Association (GFOA), National League of Cities (NLC).

Communities of All Sizes: PBB has been implemented in over 185 local governments ranging from a few thousand people to large cities with populations nearing 1,000,000 citizens.
The underlying philosophy of priority based budgeting is about how a government entity should invest resources to meet its stated objectives. It helps communities to better articulate why the services they offer exist, what price they pay for them, and, consequently, what value they offer citizens.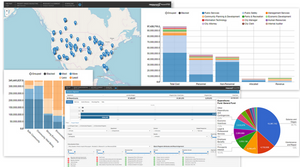 Through priority based budgeting, WCSD staff will review the entire organization, identifying all programs by tapping into the ResourceX database of over 90,000 municipal programs, identify each WCSD program cost, and their relevance through prioritizing each. "This is landmark for education. WCSD is the first to adopt Priority Based Budgeting, taking a substantial leap towards transparency and accountability, and most all of accelerating student achievement with targeted resource allocation," says Chris Fabian.
The goal of PBB is to make sure WCSD is spending tax dollars on the highest priority programs that meet the "results" (the term used to identify the role of the school district) WCSD intends to achieve.
Key differentiators of the best practice of Priority Based Budgeting process include the following:
Integration of Programs/Services – in PBB, the organization identifies it's individual programs and services. In it's unique database, ResourceX has identified over 90,000 individual government programs.

Pricing of Programs/Services – the software integrates data from the organization's financial systems and human resources systems (or ERP) and allows for resource allocation of budget and actual data, to programs and projects.

Integration of Results and Result Definitions – the software integrates the organization's PBB Results and Result Definitions. In it's unique database, ResourceX has accumulated key Result areas from over 185 organizations, as well as the key performance metrics that help an organization define their Results.

Scoring Evaluation of Programs/Services – the software facilitates a unique evaluation process whereby programs are numerically scored relative to the organization's Results, as well as key "Basic Program Attributes" (degree of mandate, size of population served, cost recovery, reliance upon the organization by it's students, etc).

Ranking Algorithm – the software applies a unique scoring and ranking algorithm that places programs in priority levels (four specific "quartile rankings"), based on the programs influence on societal objectives and basic program attributes.

Resource Alignment Diagnostic (RAD) Modeling – the software facilitates exploration of the data based on unique analytics drawn from the scoring process, allowing the organization to understand and act upon insights such as: which programs are ideal for public/public partnership; which programs are charging a fee, where the fee is less than the true cost of providing the program; which programs are best served by another source; which programs are the organization's most influential to achieving Results, etc

Resource Optimization through Partnerships –

1.) identify and leverage common service areas among private, public and non-profit organizations within your community,

2.) create shared service approaches, and/or service consolidations/mergers together with these organizations, thereby

3.) freeing up your current resources on a dramatic scale, to reallocate elsewhere to start new services or enhance current high priority services.
ResourceX will work with WCSD along the way, as we work to fully implement this budgeting process in the next fiscal year. Chris Fabian states, "It's especially meaningful to have the opportunity to serve the District under the leadership of Board President Katy Simon, who's leadership as President and CEO of the Alliance for Innovation transcends both Local Government and Education."
ResourceX next will help WCSD develop a method for allocating our resources, based on our priorities. We will have a customized cloud-based resource alignment diagnostic tool (RAD tool) that will assess spending in terms of our identified priorities, develop "target budgets" for departments, and analyze programs.
The "RAD" tool is truly unlike anything previously available to local governments, providing "a new and unique lens" on how government spending is aligned with priorities. Prioritizing in this way will help the school district visualize and analyze how we spend money and how we might adjust spending according to our stated results and priorities.
To learn more about priority based budgeting, visit www.resourcex.net.