PROGRAM BASED
BUSINESS INTELLIGENCE
Create and utilize your Program Based Business Intelligence (PBBi) to tackle the desired outcomes of your organization
Implementing Program Based Business Intelligence, or PBBi, gives your organization the opportunity to learn and communicate what you do, understand the true costs of the services you provide, clarifies why you are in business, and sets you up to be proactive regarding future business-intelligence.
​
Build business intelligence that transforms how your organization thinks. communicates, and makes decisions - through programs!
THE DATA LAYERS OF PBBI
---
Programs tell your story.
Cost Allocations shape your story.
Attributes qualify your story.
Insights tell the story about your future.
APPLYING THE BLUEPRINT
The PBBi Blueprint was specifically designed for organizations to apply PBBi data. Organizations discover solutions to optimize their current resources and explore opportunities to attain new resources to successfully launch new programs and bolster the highest priority programs required to create the best future they can.
Use your PBBi data to decide when to shift funding away from programs that aren't working towards those that are most positively impacting your organization and community. By analyzing your program data and then processing each individual program through the PBBi Blueprint, you will develop a path of action built on data and evidence to dramatically free up and reallocate resources.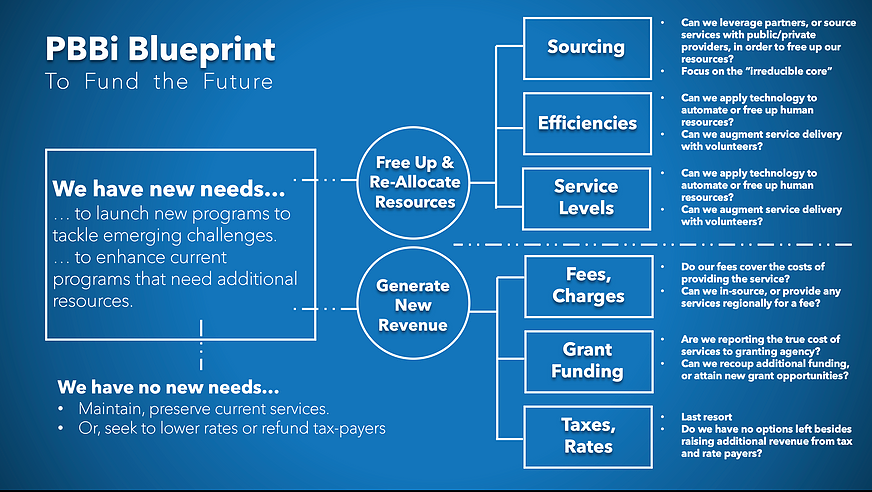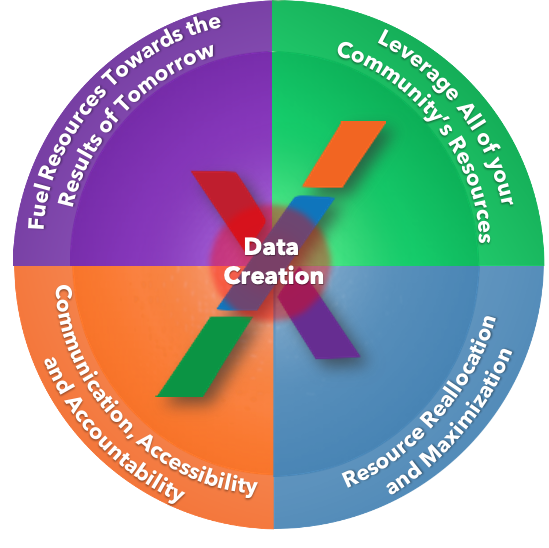 INCREASE THE CHANCE OF
ACHIEVING A GOOD FUTURE
Today's local governments are faced with a myriad of challenges from overwhelming revenue shortfalls to addressing equity demands and the reshaping of their approach to public safety. The importance of these issues demands a response, but not reactionary actions. Through PBBi data creation and the application of insights, organizations are equipped with a bank of opportunities to deliver data backed solutions.
Putting insights into action allows for all levels of your organization to contribute their voices and expertise to positively impact your community. Whether your desired outcome is a Shortfall Solution, New Programs, Projects or Priorities, Proactivity and Preparedness, Pursuing Shared Purpose through Partnerships or Increasing Accountability and Accessibility, ResourceX has pathway to success through PBBi.