WHY WORK WITH LOCAL GOVERNMENT TO SOLVE THESE PROBLEMS?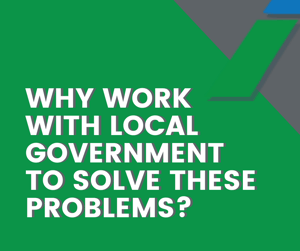 "Government exists to accomplish together
that which we can't do alone."
- Jen Pahlka, Founder, Code for America
The challenges we wish to see solved are up to government, in coordination with its partners in the public and private sector, to solve - and more than likely spearhead directly, or funded indirectly by government resources. Government gets a bad rap. At worst it can be often denigrated as being slow, wasteful, ineffective, bloated, behind the times or bureaucratic. However, as David Osborne posited in Reinventing Government, there's a big difference between the passionate, dedicated public servants who choose government to make a contribution to society with their life's work (those known as "bureaucrats") and the system, the aged machinery of government that often holds them back (known as "bureaucracy").
​Furthermore, there are tremendous advantages to government, namely it's purpose, potential, and it's resources. We believe in the purpose of government and it's potential to lead the charge in tackling some of the world's greatest challenges. We choose to work especially with local governments because they are uniquely tasked with the responsibility to work for the betterment of civilization. Governments are formed, for the most part, in every place that there are human beings. Governments and those organizations like them tasked with upholding our basic social contracts to look after the public good (schools, health-care providers, non-profits, and social impact entrepreneurs) are well-endowed, and therefore of interest for their more than likely potential to aim substantial resources towards to betterment of all. And they are formed, for the most part, with the expectation that with these massive pooled resources of a community, those resources are in turn put to use to improve the quality of life for every human being on the planet. As such, governments are a vehicle to produce a better world. ​