As The Leader in


21st Century Budgeting,


We're Doing Budgeting Differently
Priority Based Budgeting connects
local government resources with the
results most important to the community
through program data.
Priority Based Budgeting
A unique and innovative approach to budgeting adopted by local governments across North America to align resources with community priorities, provide invaluable information to elected officials that lead to better-informed decisions, and meaningfully engage citizens in the budgeting process through accessible data.
Priority Based Budgeting is recognized as a best practice by ICMA, GFOA and Alliance for Innovation. ResourceX has implemented this methodology in over 300 municipalities across North America. Our unique, web-based software, OnlinePBB, makes the process efficient, scalable, and accessible for your entire organization.
The Promise of the Process
Data > Insights > Analysis > Actions
Program data creation is the foundation of a Priority Based Budget. Programs reframe the budget and provide the framework upon which all additional layers are secured.
Priority Based Budgeting Data
For Communication, Accessibility, and Accountability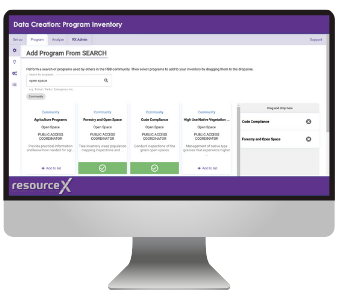 Identifying Programs
The first step in the Priority Based Budgeting implementation process is the identification of your Program Inventory. This intuitive step produces immediate value by stating and describing all of the services your organization provides to your community. The shared programmatic language provides an easy-to-understand list of services that connects staff, leaders, and citizens in a way that a line item budget simply cannot.
"The idea that we create a shared language in terms of how we finance operations and improve outcomes for our residents is really what is in everybody's best interest. Creating that shared space in the shared language is a huge opportunity that ResourceX creates."
Priority Based Budgeting Data
for Understanding the Current Utilization of Resources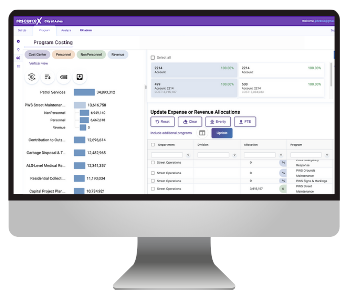 Allocating Costs to Programs
The most transformative step of building a program budget, cost allocation, takes the static line-item budget and applies each cost to a program. The allocation creates a dimension into the budget that couldn't exist in a traditional line-item budget - the ability to decide on funding within the program that that decision will impact. A program budget provides the actual cost of doing business and ensures that funding decisions are based on the true cost of providing that service.
"Before, we would make decisions by reducing lines. The new method provided a tool that clearly showed exactly what our departments were working on and how much our programs cost. We could then ask whether there were opportunities. The more we started looking at what we were spending time on, the more ideas we generated for making improvements."
Priority Based Budgeting Data
To Create a Clear Path from Resources to Results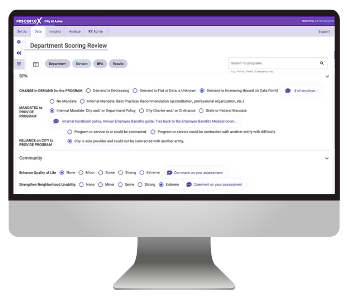 Program Evaluation and Alignment
Transitioning from a line-item budget to a Priority Based Budget creates a clear path from resources to results. Through an industry-proven scoring and peer review process, organizations evaluate each program against a unique set of results identified and defined by their community. Additionally, a set of Basic Program Attributes can be utilized to determine level of mandate, cost recovery, demand, reliance and population served.
"PBB is one of the ways we tell our community we're being good stewards of their money. We're really giving them that way to see that we are applying resources to the most aligned community items. And that way if we ever do come and say we need more or we need to make this reduction, they can see why."
Priority Based Budgeting Data
To Increase Transparency in the Decision Making Process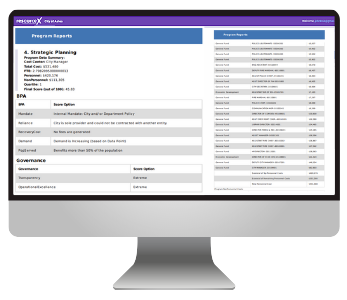 Program Data for Decision Makers
Program-centric budgets clarify all of the details important to decision-makers. Each program clearly states the purpose of the program, how much it costs to deliver, and how it aligns with the overall priorities of the community. Additionally, program data includes important information about mandates and the reliance the community has on the organization to provide this service. This level of understanding communicates the impact of funding changes in a way that line item budgets simply can't.
"You included council in a budget meeting that was fully inclusive. You laid it out. It wasn't just thrown in a book and left for us to interpret and make some guesses at. It's a much improved and open process. That's the way government should operate."
Priority Based Budgeting helps local governments make data-driven decisions to ensure efficient and effective resource allocation that is aligned with the priorities of their community.
PBB accentuates opportunities for resource reallocation and maximization to fund a better world. It equips practitioners with a budget that represents the organization's values and empowers users to pursue meaningful change and outcomes that impact their community and society at large.
Backed by Industry Leaders
The most trusted and well-known industry leaders agree... Programs are the vehicle for change.

Distinguished Budget
Presentation Award
In an update, effective in 2021, GFOA criteria now mandate the inclusion of program descriptions and program alignment to priorities. The importance of a narrative-rich budget for transparency and decision-making is now recognized in GFOA's prestigious award.

Credentialed Managers
and Candidates
ICMA Credentialed Managers are viewed with distinction by local governing bodies due to high standards of integrity and professional development. In 2022, Priority Based Budgeting will be a part of that program ensuring these leaders bring the programmatic knowledge and approach to their communities.
Contact us
Connect with the ResourceX Outreach and Engagement Team to learn more and get your questions answered. You can click the button below to immediately schedule a meeting, or you can fill out the form below to request more information via email.
Latest posts
Check out the ResourceX Blog: We're Doing Budgeting Differently
If you have ever attempted to assemble or repair something with the wrong tool, you know how...
Local governments are facing unprecedented new challenges today. Issues confronting communities...
Author Ryan Holiday said, "The obstacle in the path becomes the path."