Be a PBB Super Hero with Some Help from Your Friendly ResourceX Consultant
Liz Johnston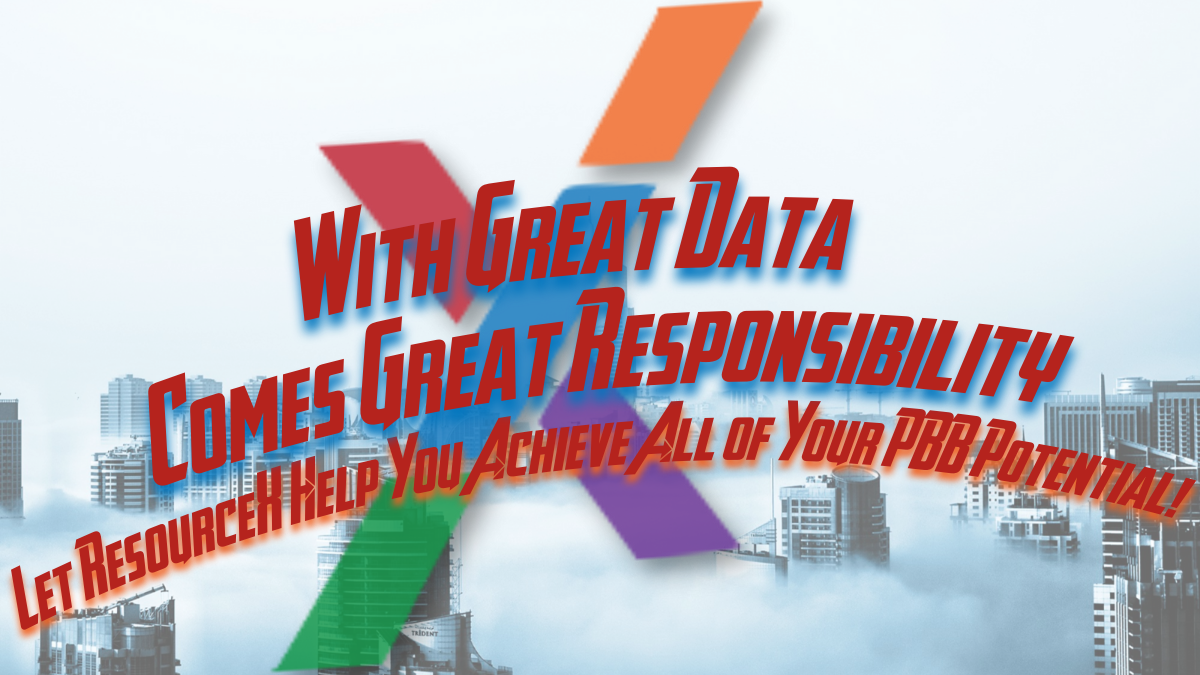 ResourceX is your partner throughout your PBB journey. From creating a project charter establishing the purpose of your PBB project to the partnership with your Customer Success Trainer to ensure the successful implementation and realization of that charter to the application of best practices such as Insights and Budgeter, ResourceX is your support system.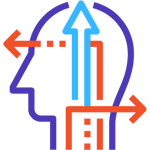 Now, with ResourceX Consulting Services, we are continuing that support beyond implementation to ensure the potential of your data is actualized to maximize the impact you can make in your organization and community.

Priority Based Budgeting (PBB) data presents your budget programmatically connecting the technical aspects of your financial systems with your residents and governing body because programs are directly relevant to how they experience the services your organization provides. Programs answer what you do, what it costs to do those things, and why it is important that you do them or why you must do them. Each program is embodied with data points pinpointing the necessary resources, its alignment to your community's priorities, and how it contributes to important community metrics and outcomes. All of this makes each program a powerful vehicle for communication and an invaluable decision-making tool.
Once a year, your organization refreshes your PBB data to ensure that it represents the most current budgetary data and service offerings. Therefore, each PBB model represents a snapshot in time. However, at any time- within or outside of the budget cycle, that data can be put to use to plan for the future of a program or to work to achieve an outcome such as identifying resources for climate initiatives, or to pursue equity programs, or to increase service levels on high demand programs. The creation and capture of these future thinking ideas are called the PBB Insight Workshop.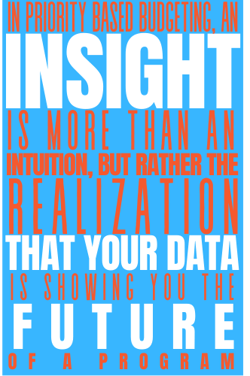 Insights help organizations imagine a future through the lens of their program inventory.

Organizations can apply additional lenses based on desired outcomes and utilize the Insight tools within OnlinePBB to work towards a measurable goal. The Insight workshop is a facilitated framework that creates a forum to share budget ideas based on your program data. It is an inclusive workshop that brings together subject matter experts from all departments to source ideas and encourages innovation. These workshops result in a library of Insights created by organizational staff based on their specific areas of experience and knowledge. Each Insight is reviewed, evaluated, and recommended if it is achievable and supports the desired impact.
The library of Insights identifies opportunities and their potential value, but that potential must be acted upon to enact change and deliver on the stated outcomes being pursued. The new ResourceX Consulting was created to help organizations approach their Insights and determine which are most impactful and actionable and then assist with following through on them to fruition.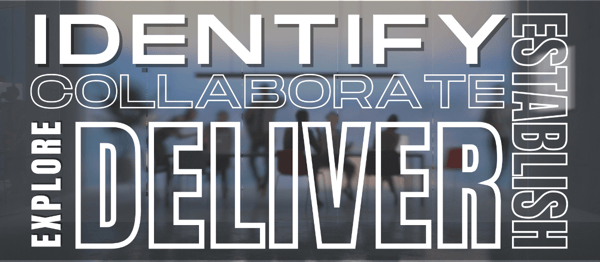 The ResourceX Consulting team will create a customized plan that fits your unique organization's culture and language, identifying any barriers or challenges and how to overcome them. There is no "one size fits all" approach from our team, and each Insight presents a new opportunity for our Consulting team to apply the custom RX built for your organization's needs.
Learn more: March 22nd Webinar with Eric Keck
Download the Consulting Services PDF
While many consultants come in and review your processes and procedures and then make recommendations as outside entities, every recommendation we endeavor to act upon is based on Insights from your organization's workshop. We trust you as your organization's experts, and we want to take your Insights and make them a reality. In doing this, we create an organization of internal consultants responsible for creating a better future for your organization and community.
Insights to Action in Pittsburgh, PA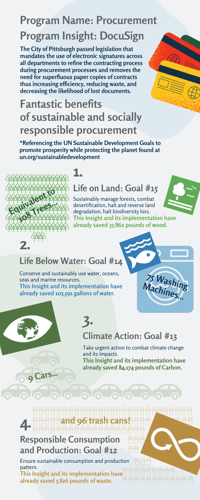 The City of Pittsburgh developed its PBB data over a three-month period spanning October 2020 through January 2021. They wanted to use their program data to identify funds in support of their Climate Action and Equity Plans. In February 2021, city staff participated in a series of Insight Workshops facilitated by ResourceX and created 186 Insights; 37 of which were highly aligned with Climate Action and Equity.
Following the workshops, ResourceX and City leaders created "delivery teams" that reviewed those 37 Insights further and identified four (4) that they recommended for the 2022 Budget. Of those four, two(2) were approved in the 2022 Budget:
Program: Procurement
Insight: Move all contract management to DocuSign to reduce paper consumption
Program: Priority Based Budgeting
Insight: Renew and continue tool usage to help pursue Climate Action and Equity goals
Additionally, two new ordinances were passed directly tied to the Insights created by city staff that will directly impact and increase sustainability and social responsibility.
Learn more about the ResourceX Consulting Services:
Register for the March 22nd Webinar with Eric Keck
Download the Consulting Services PDF
Browse the Consulting Services Webpage
Read more about Priority Based Budget and Program Insights:
Check out the ResourceX Impact Report
Follow us on LinkedIn and Twitter