WHY DO WE, AS A COMPANY, CONTINUE TO WORK TO SOLVE THESE PROBLEMS?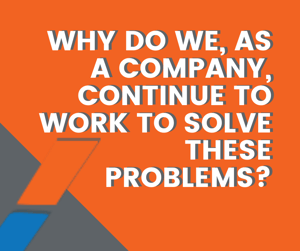 We believe our work begins with the premise that maybe we have enough resources within our organizations, throughout our communities or across our regions to provide a good quality of life for everybody; the task of our work is to help our clients systematically go out and try to prove it.
The challenge is that most organizations have new programs and services they wish to launch, in order to create a brighter future for their communities, but they perceive that they don't have the people or the money to launch these new services.
At the same time, for many, the cost of providing current services continues to increase, putting additional strain on the resources available to achieve the Results that matter most to their citizens. Applying PBB, organizations discover solutions to optimize their current resources, and explore opportunities to attain new resources in order to successfully launch the new programs and bolster the highest priority programs required to create the best future they can.
The challenge is one of resource scarcity, for which there are two primary means to create an abundance of resources to help overcome the problem. Conceivably, the organization can either change the way it spends or allocates the current resource base it is provided, and/or it can devise of new ways to bring additional resources into it's possession. To solve resource scarcity, both of these levers aim to create new resources, with which the organization can fuel the programs it desires to launch.
Free up, and re-allocate current resources – this approach focuses on the "expense" side of the equation, exploring opportunities to rethink how current resources are being spent. Presumably, one-hundred percent of an organization's budget is the maximum potential of the solutions in this realm of opportunity.

Generate new revenue – this approach focuses on the "revenue" side of the equation, determining opportunities to bring new re- sources into the organization that weren't previously collected.
The purpose of our work therefore is to create a practical vehicle to discover and take advantage of every opportunity to free-up and reallocate resources, as well as to maximize new revenue, in order to fund the programs required to produce a better future.
Finally, once resources are made available, we prioritize those resources via a Priority-Based Budgeting framework to ensure that they are channeled to where they need to go for the highest impact towards creating a better future.
Looking out more broadly, we recognize that local government is but one organization among many in a community, and therefore our long-term vision is to optimize resources across a region. The 4-Levels of Resource Mastery is our long-term vision on ensuring that any society will have the resources it needs to fund a better future.