The Essential Guide to Priority-Based Budgeting
Learn everything you need to know about connecting government resources with your community's highest priorities.
Introduction
Local governments have been clinging to the same incremental, zero-based and traditional budgeting approaches for decades. In fact, the practice of line-item budgeting recently passed the 100-year mark.

This type of budgeting—in which last year's budget becomes this year's budget, but with a line item percentage increase or decrease depending on the department—is problematic, whether starting from the ground up with zero-based budgeting or using traditional budgeting. For one department to "win," another must "lose."

Traditional budgeting's use-it-or-lose-it mentality and across-the-board budget cuts that don't consider factors other than a percentage make it difficult to connect funding with strategic goals or performance metrics. And that's a problem.

Social infrastructures have become more complex. As a result, budgeting to address the housing, transportation, sanitation, education, and healthcare challenges that today's communities face requires innovation.

To better meet the needs of their residents, local governments and public sector agencies are taking a renewed interest in priority-based budgeting. Program-focused budgeting models aren't new, but the methodology had not gained much traction as a best practice in many local governments until recently.
In contrast to traditional budgeting models, priority-based budgets align resources and funding with community priorities and outcomes. This shifts the focus to accountability for a program's results, creating transparency and a better understanding of the true cost of each program.
These program results also drive year-over-year funding. Instead of standard across-the-board budget cuts, priority-based budgets reduce or increase funding based on the value of an individual program or service to the community. But that's only part of the story.

Let's take a deeper dive into priority-based budgeting and explore how this model helps local governments and public sector agencies create program-centric budgets by answering three critical questions:
What services do we provide?
How much does it cost to provide these services?
Do the programs and services we fund align with community priorities?
Download a PDF version of this guide by filling out this form, or keep scrolling to read.

Chapter 1: What is Priority Based Budgeting?
At the highest level, priority-based budgeting is a model that supports making budgetary decisions and allocating funds based on community needs.
The primary purpose of priority-based budgeting is to dissociate decision-making from account numbers and line items, instead basing funding allocations on the programs and services that meet specific needs.
Unlike traditional models, priority-based budgeting evaluates each program in various areas to determine its current alignment to the community's priorities—and provides a price tag for that program to demonstrate how funds are being used to support those priorities.
Principles and Practices of Priority-Based Budgeting
Successful implementation of priority-based budgeting depends on seven essential principles and best practices:
1. Prioritize Services, Not Departments
Instead of looking at line items at the department level, priority-based budgeting teams evaluate individual programs and services, their cost, and how they align with community priorities.
2. Reevaluate and Adjust as Needed
Unlike traditional budgeting, priority-based budgeting addresses each program. Organizations can discuss at a program or policy level how they impact priorities—and whether those priorities merit more, less, or no funding in the new budget.
3. Justify Today's Spending
With all the money tied to programs, budget decision makers can ask questions and gather insights to justify budget requests based on invaluable program data and the program's current alignment with the community's vision.
4. Spend Only What You Have
Priority-based budgeting teams look at what revenue is available to fund programs. It also enables clear-cut opportunities for resource reallocation.
5. Understand the Real Costs of Your Programs
Not knowing how much it costs to provide a program or service leads to underfunding or tied-up money that could have been used elsewhere. Priority-based budgeting looks at expense and revenue line items across departments to create a true picture of costs.
6. Be Transparent
Transparency is essential in including residents in the budgeting process. Programs communicate the budget in terms that are relevant to how residents experience local government services. Clarifying these programs and how they impact the community's priorities is key to creating an effective budget.
7. Enforce Accountability
Staying within spending limits is important, but it's not the only goal. Local governments are held accountable for the results and outcomes of the programs and services prioritized in the budget.
Chapter 2: The Advantages and Challenges of Priority-Based Budgeting
No methodology is 100 percent ideal, and priority-based budgeting is no exception. As with any budgeting process, there are inherent advantages and challenges.
Advantages of Priority-Based Budgeting
Offers transparency into what services the government provides and how much it costs to provide them.
Allows more meaningful comparisons to other service providers when considering options such as outsourcing or shared services.
Shows how personnel are affiliated with different programs, making it easier to understand where the workforce is spending their time.
Gives cost context to programs using invaluable data points rather than categorizing them by department.
Includes program alignment to community priorities to ensure the funded programs reflect community needs.
Gives decision makers more insight to fund the right programs rather than those that were predefined.
Directs funds straight to community priorities.
Challenges of Priority-Based Budgeting
Adding program budgeting to the existing accounting structure can be difficult.
Cost allocation requires a shift in thinking when determining how to include support services, facilities, and overhead.
The budget team must resolve differences of opinion about the alignment of programs.
Chapter 3: Four Phases of Priority-Based Budgeting
The priority-based budgeting methodology can be broken down into four distinct phases. Together, these stages answer our initial questions about the programs a government provides, how much those programs cost, and whether they align with community priorities.
Additionally, data collected during the budgeting process can drive new initiatives and support emerging priorities.
Phase 1: Create Program Data
In priority-based budgeting, a program is defined as a collection of resources or tasks organized to deliver a service or product. These programs are the foundation on which we build budgeting data.

The first step in creating this foundation is to establish an inventory of the services and programs that describe what a government does.
What Programs Are (and Are Not)
Some general guidelines can help you decide what qualifies as a program:
Each program in your inventory needs to provide a specific service that leads to an identifiable result. For example, "Supplies and Services" is not a program, but "Bus Stop Shelter Maintenance" is because the condition of a bus stop shelter is observable and trackable.
A program is not a location, such as a public swimming pool, golf course, or soccer field. However, a program would describe activities that occur in a location (e.g., water safety classes).
Other examples of programs in your inventory could include:
Special Needs Nutrition Management
Athletic Field Maintenance
Citation Issuance and Prosecution Support
Water Quality Testing
Animal Control Call Response
Victim Services
Critical Incident Response
Community Relations
Identifying Programs
Knowing what qualifies as a program is just one step in gathering program data. Even small communities require a wide variety of services, and local governments may support hundreds of programs.

You might need to dig deeper to identify all the programs that should be included in your program inventory. Answering questions like these can help you drill down into your offerings and find programs you overlooked:
What services do you advertise?
What services are you mandated to provide
Are there grants available to support a new program?
What programs do you offer to specific demographics or groups (e.g., seniors, non-residents, people with disabilities)?
Be sure to name your programs carefully to ensure your inventory is easy to understand. Use concise, descriptive names that are familiar and can stand alone with no abbreviations or acronyms.
Phase 2: Determine the True Cost of Each Program
Once your program inventory is complete, the next step is to create comprehensive cost information for each program. Program costing establishes a better understanding of the actual costs of a service and provides more meaningful comparisons for decision makers.

Although focusing on line items doesn't work well as a budgeting model, line items are an essential data layer and provide important costing information for programs. Cost allocation takes line items and makes them relevant to leadership and decision makers. It reveals how much it costs to run a program by looking at various factors, including how many people and departments contribute to a given program.
4 Components of Program Costing
The program costing process is made up of four main stages:

1. Separate personnel costs from non-personnel costs: Costs related to personnel—such as benefits, salaries, and retirement plans—go into the personnel category. These costs normally make up the bulk of program costs, so it's important to document them carefully.

2. Link personnel to the programs they support: Because people costs are the most expensive, it's critical to link each person to every program they are involved with and spread out the cost. This can be tricky because many organizations don't track how employee time is allocated at the program level.

3. Allocate non-personnel costs to programs: Compared with personnel costs, factors such as shared IT resources, electricity, and rent add much less to overall program costs. Although it's important to include this information in costing, your estimates can be less rigorous because these factors do not have as much of an impact on costing accuracy.

4. Connect revenue to programs: This step is optional, but the information is valuable. One of the cornerstones of priority-based budgeting is measuring the impact of programs. Being able to connect a program to revenue generated by that program's activities is a powerful decision driver.

Program costing provides a reality check for budget teams by showing what a program costs today, not what it cost three years ago. Unlike line-item budgets, program budgets reveal exactly where expenses are incurred, helping management determine how to improve efficiency.

This comprehensive costing data can also be applied to budget requests to show decision makers how approving funds for one program will impact another.
Phase 3: Prioritize Programs and Services
At this point, you have identified your programs and know how much each one costs. Now it's time to review each program through the lens of your community priorities.

Local leadership and elected officials generally identify where they want to focus spending and set their agendas through planning and identifying priorities. Priority-based budgeting utilizes these priorities, or a similar iteration of them, in a scoring exercise to align programs to the vision of the community.

By scoring programs to set priorities, you will end up with an overall alignment score that provides insights into specific areas. For example, Program A is highly aligned for infrastructure, whereas Program B is aligned for fiscal stewardship.

Every organization will focus on the results that impact them the most—such as building and maintaining a safe community, strong economy, secure infrastructure, or robust cultural environment.

Invaluable data points are tied to programs by evaluating each program based on five attributes:
Reliance
Population served
Demand
Cost recovery
Mandate
Scoring against these attributes doesn't make a program more or less in alignment with community priorities. However, it does provide valuable data points to drive decision-making about whether to increase or decrease service levels. For example, if a highly mandated service recovers all of its costs, you aren't likely to decrease service level for that service because it is a high priority and essentially pays for itself.

To create a fully prioritized budget, teams evaluate programs against these attributes and prioritize them against the organization's unique results or outcomes.

Many local governments are increasing their focus—and their spending—on addressing climate, equity, and resilience within their communities. As more organizations develop programs to support these outcomes, relevant attributes can be added to the scoring mechanism to increase the alignment of funding and accelerate the impact of programs on these issues.
Phase 4: Distill Insights from Previous Phases and Take Action
During the final phase of priority-based budgeting, program insights are gleaned using a continuous process of creating data, adding context, and taking action. Once you have the robust data set from phases 1-3, you will be equipped with a powerful decision-making tool to apply these insights to your budget.

Program data and the associated insights allow budget teams and decision makers to communicate program priorities to elected officials and residents, inspire actions that guide fund allocations, and identify areas in which services can be provided in improved, efficient, or innovative ways.

The insight phase also maximizes organizational knowledge by un-siloing data and bringing department experts into the budgeting process. Encouraging communication and collaboration between all stakeholders makes it easier for organizations to take informed action on their programs and services.
Chapter 4: What's Next for Priority-Based Budgeting?
Today's complex social frameworks require an innovative approach to funding. Priority-based budgeting helps local governments address the goals and challenges of their communities by making programs the vehicles for change.
In contrast to traditional budgeting models, priority-based budgeting connects government resources with the community's highest priorities by:
Informing the budgeting process using line-item data to provide an overall price tag for resource needs.
Identifying programs and reframing the budget relevant to how elected officials and residents experience public services.
Assigning program costs and revenues to provide context for budget evaluations that determine whether to increase or decrease funding.
Aligning priorities by evaluating programs against community needs and allocating spending to maximize impact on organizational and community goals.
Planning for the future by tying programs to desired outcomes, such as addressing equity and climate change and charting a course of action.
Government budgeting software providers like ResourceX can streamline programmatic budget requests by defining the nature of program changes and the financial and strategic impact of those changes.
Contact us to learn more about priority-based budgeting and schedule a demo today.
Download a PDF version of this infographic by filling out this form.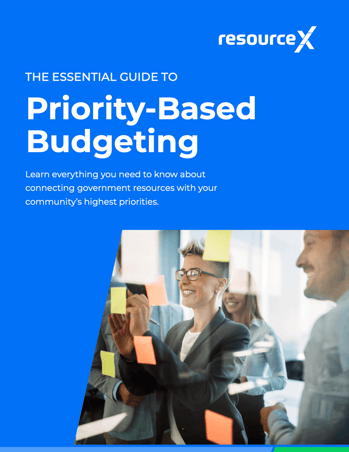 ResourceX Blog
Learn about better budgeting.
Priority-Based Budgeting (PBB)
Priority-driven budgeting is a process in which budgets are created based on the priorities of an organization. It identifies the most important goals and objectives of the organization and allocates resources accordingly.
At the highest level, priority-based budgeting is a model that supports making budgetary decisions and allocating funds based on community needs. The primary purpose of priority-based budgeting is to dissociate decision-making from account numbers and line items, instead basing funding allocations on the programs and services that meet specific needs.
Unlike traditional models, priority-based budgeting evaluates each program in various areas to determine its current alignment to the community's priorities and provides a price tag for that program to demonstrate how funds are being used to support those priorities.
To align local government budgets with priorities, organizations need to engage in a collaborative process that involves all stakeholders. ResourceX's approach to priority-based budgeting is particularly effective in accomplishing this. ResourceX combines the transformational PBB methodology with a powerful and easy-to-use software platform enabling increased transparency and accountability of local governments.
ResourceX produces data to identify and prioritize programs based on their impact and return on investment. Reduce wasteful spending, improve strategic resource allocation, and demonstrate data-driven funding decisions with PBB.
The expected outcomes of priority-based budgeting include improved service delivery, increased accountability, and enhanced transparency.
Organizations working toward specific goals, such as climate action, increased equity or fiscal sustainability, can utilize PBB to achieve their goals.
PBB Implementation
According to the Government Finance Officers Association (GFOA), the best time to implement priority-based budgeting is during the budget development process. This ensures that priorities are identified early on in the budget preparation and resources can be allocated accordingly.
Priority-based budgeting data is applicable throughout the year and isn't limited to the budget creation process. PBB helps leaders make important decisions about the annual budget and also supports departments in making decisions throughout the year.
The time it takes to implement priority-based budgeting varies depending on the size and complexity of the organization. Implementation can take from three to six weeks. Annual budget and program data updates should be validated and approved prior to the next budget season.
PBB Data
The value of priority-based budgeting is in creating a data-driven approach to resource allocation, which can lead to more informed decision-making, increased transparency and accountability, and improved communication with stakeholders.
ResourceX Software
ResourceX is a cloud-based software that is accessible online. Software updates and enhancements are ongoing, and nothing is housed on your servers. This ensures easy access to PBB data from anywhere and provides seamless software enhancements throughout the year to provide all users the best possible ongoing experience.
ResourceX's priority-based budgeting software is compatible with your ERP system data.
ResourceX downloads your data from your ERP
system and upload that data directly into the ResourceX software. The ResourceX software solution is designed to work with existing systems, making implementation easier.
PBB Methodology
Priority-based budgeting improves decision-making by providing a data-driven approach that ensures resources are allocated to the organization's highest priorities. This leads to more informed decision-making and increased transparency and accountability.
Priority-based budgeting creates data at the program level, not at the line item level. This programmatic approach provides invaluable data points about the services residents count on, including community reliance, population served, demand, cost recovery, level of mandate, and overall alignment to community goals.
Priority-based budgeting helps organizations achieve their goals by ensuring that resources are allocated to the highest priorities. This leads to improved outcomes and increased efficiency.
PBB Success Metrics
Success metrics for priority-based budgeting include improved outcomes, better resource allocation, and greater stakeholder engagement. To measure the success of priority-based budgeting initiatives, organizations need to assess outcomes and evaluate progress.
Equity in PBB
To ensure equity in priority-based budgeting decisions, organizations should engage in a transparent and inclusive decision-making process.